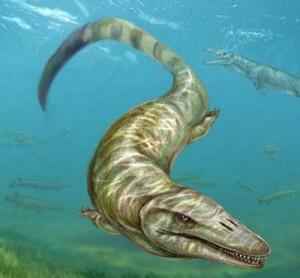 Scientists in Hungary have made an amazing discovery by uncovering an 84-million-year-old sea creature  that belongs to an ancient aquatic type of  reptiles known as mosasaurs.
Fossils of this so called "sea monster" has been found in a  waste dump of a coal mine in Hungary.  Paleontologists calls this particular fossil 'Pannoniasaurus'.
Size of these discovered fossils range from 3 feet long to 13 feet. The scientists believes that these species lived in freshwater.
"The evidence we provide here makes it clear that similar to some lineages of [whales], mosasaurs quickly adapted to a variety of aquatic environments," said László Makádi, a paleontologist at the Hungarian Natural History Museum, "Finding young or even smaller-bodied versions is as rare as hen's teeth in the fossil record of mosasaurs."
Although, these scientists are still trying to determine the size of these creatures. But they do believe that this creature looks more like a cross between crocodiles and whales.
[Source: Ancient Sea Monster Found—First Freshwater Species Known National Geographic ]
(All the images, trademarks, logo's shown on this post are the property of their respective owners)
Roshan Jerad Perera