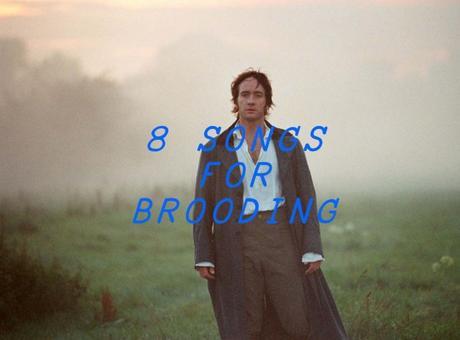 After having to endure both a brutal winter and the constant stream of equally mind-numbing spring-themed articles that reference said brutal winter, it's important that we take these last few gloomy weeks to brood, and brood hard. If we've learned anything from BBC crime thrillers, it's that the best place to brood is in the rain, staring out distantly at a scenic overlook. Find an appropriate setting and sulk to your heart's content.
Spotify
1. John Wayne Gacy, Jr. – Sufjan Stevens
Stevens' retelling of the life of serial killer John Wayne Gacy Jr. never ceases to gut me. Not just a story of murder, but a tragic monster story that will be remembered as one of the most chillingly beautiful songs ever written.
2. How Do You Keep Love Alive? – Ryan Adams
Mid-2000s Ryan is a standby for gray days. Earnest and just a tad overly sentimental, he knows that some days are just a struggle to get through.
3. Hollywood Forever Cemetery Sings – Father John Misty
Aubrey Plaza has forever emblazoned the image of her dejected, train wreck houseguest in my consciousness. A haunting song and a striking music video.
4. The Rat – The Walkmen
There's nothing more viscerally satisfying to me than listening Hamilton Leithauser scream "Can't you hear me, I'm calling out your name?" Perfect for when sulking isn't satisfying enough and something must get smashed.
5. In The Hearts of Men – First Aid Kid
A wistful stunner off of the Swedish sisters' album. "In the Hearts of Men" is a self-reflective ballad that showcases Klara Söderberg's gorgeous vocals. There is something particularly satisfying about the way she sings "goddamn." Whoever upset these elfin beauties is truly a rat bastard.
6. Overgrown – James Blake
James Blake, or, as I affectionately refer to him, the modern day Rick Astley, has brooding down; that soulful voice is a sonic blessing. I find that that there's something about this track, off of 2013's album of the same name, that makes me feel like Blake is constantly on the verge of tears. It's a slow burn that gives pain and regret time to sink in.
7. White Chalk – PJ Harvey
If anybody knows where to find a moor gloomy enough to listen to this 2007 album, it would be Polly Jean herself. White Chalk remains for me one of the most surprising albums of the past ten years, equal parts beautiful and terrifying. Despite its simple instrumentation, the title track always seems to hit with particular poignancy.
8. The Flowers – Regina Spektor
Regina Spektor is one of the artists that I think that has been unfairly forgotten over the past few years. Soviet Kitsch came out during a particular angsty year in my teenage life, and I remember hearing "The Flowers" and thinking about how sad Spektor sounded yearning for sleep to come so that she could forget about all that she had lost.