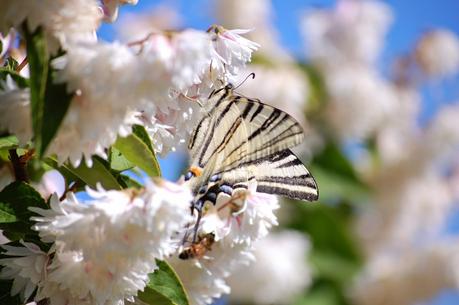 Getting closer to nature in the garden
THE.PReSeNT:
"Hey Contender you have been out of the ring a while, you must be rusty. Time to ship your a*** off to the scrapheap."
THE.FuTuRe:
"Look at you rotting away, doing nothing, easy life, lazy life, go back to your hidie hole, looser"
 So we have downshifted and stopped working so what have we learnt about the change in lifestyle so far? Below are 8 major changes and considerations due to the change from Town to Country, Jobs to Idleness.
Following this are 15 points / questions one can ask before taking the downshifting plunge.
Ah life! Bright lights, sensuous smells, searing pains, sadness, elation.
Here the TRiBe is in South of France and we have been through most of these emotions already. These emotions have been amplified with the big change in lifestyle we have just made.
Perhaps we should have just gone with the flow, kept the stimulation of the city and work? - Not on your nelly, our new life suits us so far!
After massive changes to lifestyle in such a short period of time, doubts inevitably enter your mind.
Have we done the right thing? Have we affected our children, friends and family too much? What is our meaning in life?
Unfortunately these negative thoughts arise, driven by past habits. Speed, productivity, getting things done, appointments, meetings, schedules, deadlines, playdates...were the norm. Hectic and exhausting. These hangovers from our past life still linger and nag in our subconscious.
So how mentally and socially do we need to adapt and change to downshift?
1. On living together FULL TIME
Key Learning: Go solo, do things in smaller groups within family and keep some personal space
Being on top of each other full time is a new challenge. Thankfully we have a big garden, a spare room / study, and a walking path by the house. All places where we can take time out on our own.
Winter is more difficult. The countryside does not have all the indoor distractions available on your doorstep like a city.
We still have a cinema but no entertainment centres full of laser quest, ten pin bowling, toddlers soft play areas etc. The outdoor swimming pools are closed and the carting tracks hibernate. Town center shops take a several
months
weeks off.
So being at home with two young kids in the dark, wet and cold poses its own challenges. We have to find simple ways to entertain ourselves and friends. Isn't that what real living is about?
Distracting the kids can be too easy in the modern world -
idiot box
TV and
kill machines
Video games do them no good. Thankfully we do not have a TV set or a tablet computer avoiding the easy access the kids desire. Setting up and cleaning up a messy play session, such as painting and cooking is worth the effort as the little ones are so excited and proud with their doodles, flour cakes and paint prints.
We have bought desks for their rooms. They are covered in pens, paper, glue, glitter, stickers which keep them amused for hours. They can then build something in Lego or with the wooden Kapla blocks.
Time Out is needed for us Adults as well. Mr C spends time chopping wood, gardening, reading, a bit of blogging and investing. while Mrs.C has taken up knitting (can you believe it), gardening, swimming for miles and putting her linguistic and law skills to good use.
Together we cook, garden, walk and talk (we still do!). We watch the occasional film, discuss books and politics and like to entertain our new friends.
Time will tell if we strike the right balance between personal needs, those of husband and wife, father and mother, friend and relation.
2. On Health
Key Learning: Review your health and your diet, do you need fewer stimulants and calories, do you need to exercise more and dedicate a specific time to exercise?
Idling and re-charging our batteries have become very important for us. It has taken us aback how much the hectic life of London and corporate work took its toll on our health. Stress and pollution needs to be purged from our systems, the go-and-do- quick habit needs to be vanquished. This will all take time to remedy.
Admittedly we have always been a bit health conscious, from using
colloidal silver
,
oxygen treatment
, relaxation techniques and some good meals. Unfortunately we never tackled the real big health issue of overwork which drove bad habits resulting in stress, exhaustion, lack of exercise and supplemental snacking.
We were stressed out, caffeined out nutters - jumping from one activity to another seeing how productive we could be. I hope we did not come across that way! No wonder a two week vacation never really 'fixed us', leaving us relaxed and genial.
Now we are focusing on slow un-processed food. Less meat and lots of fresh vegetables, salads. Less alcohol...and more gardening, walking and swimming.
3. On Finding a Home
Key Learning: Renting is a good approach in a completely new place. It gives you time to find the right place and not make a snap decision which could be the wrong choice financially or for example too isolated / far from amenities than you were used to having.
Bugger, this finding the "perfect" home is a bit of a pain. We really should consider the 80:20 rule if 80% of our needs are catered for, the other 20% is not worth the hassle. This is damn difficult when you have a picture in you mind.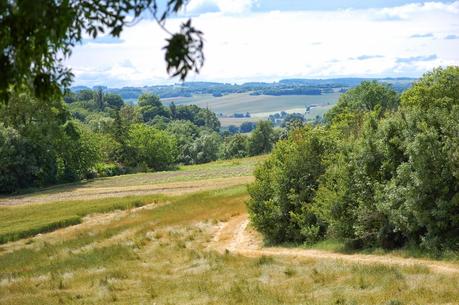 Gascony countryside by our house
All we want is blue skies as far as the eye can see over green fields, snow capped mountains and......  a little plot of land with a modest building. It would be nice if it looked like a Constable painting.
REALITY CHECK time - TOO much house in the wrong location / costing too much / too far from civilization and friends = unhappiness to THE.TRIBE.
A house is a consumer good which many people treat it as a status symbol. At the same time is it somewhere where you will spend a considerable amount of time. It needs to be a good size, comfortable and easy on the eye. A cosy home.
At the same time we will not settle for a messy ugly place surrounded by sculptured concrete as is not conducive to a positive mental state. We are animals at heart and our hearts lighten up when we are surrounded by the chaos of  nature.
4. On happiness and enjoyment
Key Learning: You have worked hard for a break, accept slowing down, and have a laugh.
I have covered living for today many times in this blog. Whilst having several plans over different time horizons is REALLY important leading up to (and after) financial independence we want to have fun along the way!
We are happy with our rental property, we are happy where we are, we are happy the kids are happy. We are also thankful for what we have, we do not demand better although we do strive for better. We reflect on THE.PaST but do not regret it. It is what made us who we are.
Perhaps having less complexity to our lives hence more time to relax, think, talk is making our lives is making them more enjoyable. Perhaps that is part of happiness.
In all cases it is just a reflection of your own personal mind. Close your eyes and dream - put yourself in a happy place. You can go there any time. It is all a state of mind isn't it really?
5. On Friendships
Key Learning: Get involved in the community and make lots of new friends.
We have been so fortunate to make some really nice new friends. Friendships really do bring happiness to all involved. You can give of yourself in a friendship and hopefully help out in a friendship.
Friendships are a great way to learn something new, get a second opinion and have engaging (not about the house, work or the weather) conversation. All the better over a nice home cooked meal and a few glasses of wine while the kids tear up the garden.
6. On Growing Food
Key Learning: It is fun, exercise, rewarding and educational for the kids however self sufficiency may be too much of a lofty goal. Start out small, have grand plans!KISS
- Keep it simple stupid!!!! I harp back to the days of watching "The Good Life" a British comedy series about a couple living in the English suburbia, digging up their garden to live off the land. An adorable, warm fuzzy feeling program. This seems right this is what we should be doing.
Nuclear power, acid rain and depletion of the ozone layer were the threats at the time. Get back to the land and we will be local and not infringe on our neighbours resources and hospitality.
Potatoes, onions and tomatoes are easy. It is also easier to buy the seedlings instead of growing them from seed. Anyone can give it a go!
7. On Meaning / Work
Key Learning: Have a hobby, small business plan, list of possible things to do before you downshift. We all need a meaning to life what is yours?
We have developed the work habit down the years. To be fair we actually like it. It is a challenge and you get paid for it providing it is the RIGHT type of work.
Work really needs to be an intellectual challenge and not just a means to an end. A challenge makes us feel alive. We want to overcome it, strive for it, understand and learn about it.
8. Appreciation of Life
Key Learning: Take time to count your chickens, you have worked hard to get where you are, appreciate how fortunate you are to be there, now don't waste it.
Downshifting affords time. Time that can be re-invested in education, relaxation, challenges, experiences, caring and nature. It really is a time to stand back and consider the world around you and have a look at yourself.
Am I the person I want to be, am I respectful to the people around me, am I good company, am I a good neighbour, citizen, friend, husband, father?
Look at how lucky we are - things aren't that bad are they, how can I make it better. How can I make other peoples lives better?
Slow down, look around, reflect and ponder.
Here are 15 things to consider before downshifting
Have a plan
Learn to slow down
Are you a country or a town person?
Spend time alone and do your own things
How are you going to use your time
How will friends and family react
How will you keep to budget
Will you have enough income for the next 20+ years
What support will immediate family members need
Get out and about most days
Make new friends ASAP
Get to know the neighbours
Look at your diet
Keep in touch
Check you are happy with your choices
Peace, prosperity and happiness
THE.CONTENDER