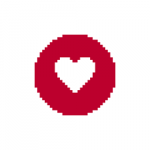 I had heard of this stuff when a friend went to buy a cd with gaming music on it but I had no idea that video game music was this popular. 8 bit music is original music  inspired by the limitations of classic game and computer hardware. I can imagine after a couple of hours playing games, these tunes become ingrained in your head.
Peter Swimm is a chip tune musician who goes by the Twitter handle of @TCTD and writes the blog True Chip Till Death. He's gathered his gaming music community to put together a powerful fundraiser for Japan. Over 100 chip composers have donated tunes to the campaign, you can download the tracks for a donation of any amount to the cause!  The fundraiser is hosted through firstgiving and has become so successful that they've had to raise their donation goal to keep up.
How did you recruit all of the chip musicians to the Chip In: Japan fundraiser? What was the key to getting so many to join?
I think foremost was the reach of the organizers. I have been running the True Chip Till Death blog for over 2 years, and Pixelh8 is a well known member of the chipmusic community, so between the two of us we have a pretty large reach. Having two people who could each focus on spreading the word and coordinating the large amount of donors was also a big help.
What motivated most of the chip tune community, in particular, to join this campaign?
I think many chip musicians feel a spiritual connection to Japan and it's people, whether its through the hardware and art we have enjoyed through their hard work, and through members of our community who live there. I think many of the musicians saw it as a chance they could help, in the face of what seemed to be a particularity dire situation.
Had the chip tune community come together previously to raise money for a cause?
The chip scene has done much to come together to crowd source projects, and create compilations to raise awareness of issues, but this is my first experience working as part of one. You can take a look at some of the kickstarter projects used to raise money for things like the Blip Festival as a guide.
Do you have a direct relationship with Japan in any way?
I have many friends in the region, and one of the contributors for our website (True Chip Till Death) lives in Tokyo, so we had specific people in our hearts and minds when we where putting this together.
Why did you choose to use FirstGiving?
I wanted a service that would directly fund the charity, so we could start collecting money and getting it to the people in need asap. I also liked your widget elements and the ability to send an email,
which we used as the delivery method for the compilation.
What has been the biggest lesson learned? Any surprises?
I initially thought we would receive maybe a dozen or two tracks, but it quickly snowballed into a veritable beginners chip music collection. I was surprised by how generous people have been not only with their music, but with their donations!
Would you do it again? And if so, why?
Absolutely. It was alot of work in a short period of time, but I hope we have done at least a little bit of good!
What do you think your fundraiser has been able to accomplish because you've worked in community that you would not have been able to accomplish otherwise?
The community was instrumental in getting the word out and supplying such great music. Every artist on board should be very proud of their efforts!
 Donate today to get trakcs from over 100 chip musicians. You can donate to the Chip in: Japan! fundraiser here.
If you want to put on your own Japan Fundraiser contact us for details and ideas, or check out our previous blog posts.
@justfundraising
The justfundraising facebook page