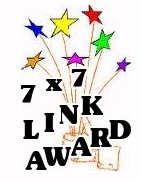 Anna, the very smart girl behind the Defiant Success blog,gave me this award, a very cool  one, whichis similar to a "tag it" post/game.
Rules are as followed:-

  

       - Telleveryone something that no one else knows about you.Well, you might find this weird, but I like spending timealone in my room, just listening to music or quietly surfing the internet! Youcould call me a loner, but I do get bored after a couple of days and alwaysfeel the need to go out, see people, talk! So yeah, I do hang out with friends,but I don't mind spending time alone, either!
-

         -  

Link to one of my posts that I personally thinkbest fits the following categories: Most Beautiful Piece, Most Helpful Piece,Most Popular Piece, Most Controversial Piece, Most Surprisingly SuccessfulPiece, Most Underrated Piece, and Most Pride-Worthy Piece.
Interesting. Here it goes:*I have to say that I don't really trust my Google dashboardand analytics- there's always something fishy there, so I can't really saythese are right (I am referring to my most popular or most surprisinglysuccessful piece)** It was hard choosing some links, as I don't think I havehelpful pieces or controversial ones, but I will try to come up with something
Most Beautiful Piece: Beautiful? Hmm... let's just say theone that I liked writing and I thought it turned out good. Besides the last twoI will mention later one (pride-worthy), I would have to go with the post aboutWeneed to talk about KevinMost Helpful Piece:  Uhm, I don't know! The SaturdayNight Live post? Or the one about On the Roadtrailer?Most Popular Piece:  Weirdly enough, right now, it's the Oscarlive-blogging, but I think it's just because of the pictures! Close by, theOn theRoad trailer discussionMost Controversial Piece:  This one is tough...I have no idea! Nothingreally interesting happens on the comment box in my blog. If I have to mentionsomething, I would say maybe the Cronenberg posts? Or the awards talk? Or Onthe road? Most Surprisingly Successful Piece: Carnageand TheBlue Sea have surprisingly high numbers- maybe it's just because they aresmaller films that have got a lot of attention latelyMost Underrated Piece: I loved Shame, and I spent a lot oftime writing my review onit, but it seems not a lot of people read it, which is sad, because it wasone of favorite posts!Most Pride-Worthy Piece:  I have two posts I wrote even before startingthis blog that I will always remember: Asingle man and Astreetcar named Desire – two movies I loved writing about and who willalways be in my top 10 or 20 of all times
-

         -  

Pass this award on to seven other bloggers.Gladly passed on to:Ruth - ...Let's be splendid about thisNikhat -Being Norma JeaneAlex- And so it beginsChip- Tips from ChipMargaret aka Sati- Cinematic cornerRuth- FlixchatterSurrender to the void- I don't know his/her name and ifhe/she does posts like this, but I love the blog and I would like to see his/her post
Thank you Anna again!