One month after the ending of the official award season, a tiny little picture sneaks its way into our movie blogging community...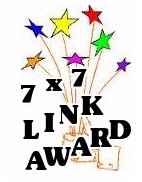 It's a new blogging award - hurrah! As a matter of fact, three of my most favorite fellow (female) movie bloggers passed this award on to me - thank you so much Nikhat, Stevee and Ruth.
Instead of a thank you speech, I'm supposed to tell you something that nobody knows about... Which is impossible, because there's nothing I'd share with you that my best friend doesn't know about - so it's going to be something you didn't know. So, let's get it done quickly: I love Hannah Montana and Zac & Cody. Well, the older seasons of course, the ones I grew up with, the classic ones. 
Now to the more grown-up things; links to my favorite posts that fit certain categories:
Most beautiful piece... 
I don't consider many of my pieces beautiful. They might be funny, interesting or entertaining, but beautiful is a big word. Anyway, if there's one post I'd have to select, it would be the one about my Song of this summer, 2011, because it perfectly and perhaps beautifully describes my feelings for the song.
Most helpful piece... 
Two short posts about two films (Koyla and Karan Arjun) that I felt weren't worth watching - I can't believe they're the 2nd and 5th most read posts of this blog! 
Most popular piece...
Probably also due to image searches, the most read post of this blog is my Cinematic Alphabet - Indian Edition, and the one with most comments is Why is Dil Se my favorite movie? or All the things I love about Dil Se...
Most controversial piece...
Having more or less negative thoughts about a family of actors is not a bad thing. Writing a post about that and submitting it for a celebration-blogathon? I don't know if it was a good idea - nobody was mad though. By all means, it must have been controversial. - Me, Myself and the Deols
Most surprisingly succesful piece...
My comparatively short piece on Rain according to Bollywood definitely got more page views than I had expected. The other one I would like to mention is My favorite movie holidays.
Both posts were inspired by my real-life "events" and in my opinion are quite unstructured and a little shallow. But maybe that's what people like.
Most underrated piece...
My review on the short film Feed the Kitty that I worked hard on, and that got absolutely no comments. It broke my heart. 
Most pride-worthy piece...Again there's two posts I would like to mention: firstly, in my opinion the best review I have written - The Tree of Life was inspiring enough to spend hours writing about it.
The other one, and this is by far my biggest pride writing-wise, is Why is Dil Se my favorite movie? or All the things I love about Dil Se... I never thought I would be able to finish it, or write about this film at all.
The seven bloggers I pass this award onto, are the following:(I've tried not to select anyone that has already received an award)
(no particular order)
Dolce and Namak - Dolce and Namak Talk Indian Movies
Maria Sofia - FilmFlare
Three Bollywood Queens - Bollywood Queens
Wilde.Dash - Love and Squalor
Gaja Gamini - Bollywood-ish Blog
Dan - Dan The Man's Movie Reviews
The people from... Cinema Chaat
Please don't feel sad if I didn't select you, I hate doing this.You can find hundreds of other great blogs in the link list above.