At 9.28pm on 16 May 1943, the first of 19 Lancaster heavy bombers lifted off the runway into a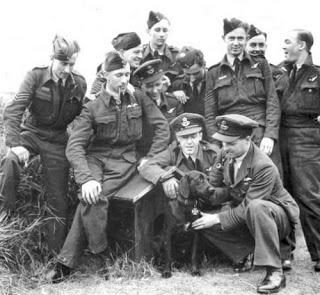 Some of the Members of 617 Squadron with dog who cannot be named.
clear, still early summer night.  This was the start of Operation Chastise:the raids on the Dams in the German Ruhr Valley.
Using a specially developed bouncing bomb, the squadron managed to breach two dams in Germany. The attack caused widespread flooding, disrupting industry in the Ruhr valley and was viewed as a great success in Britain. The mission was a dangerous one,133 men set out but only 77 returned.
Alas, one of the code words is one which can
no longer be named
.  A hint for those who didn't see
my previous post on this topic
is that the code word was the name of Guy Gibson's Black Labrador. Never mind that the dog in question's grave is there for the public to see.  Alas, the dog has been renamed in the up coming remake..
So, cue the original version of film and remember the flight crews of Operation Chastise.