It's been 7 years since we were married in a church in a small town in Newfoundland, Canada. 7 years since our honeymoon through the magnificent Gros Morne National Park and 7 years since we spent most of our wedding money in an Ikea on the way to our little apartment in Edmonton. 7 years onward and we still live in an apartment but in the much bigger city of Seoul, South Korea.
For our 7th year anniversary, we decided to go and stay at one of the best hotels in Seoul (or the #1 hotel on trip advisor), the Park Hyatt.  In order for a hotel to be considered a great hotel, it has to be completely obsessed with the details. They need to worry about the appearance of the room, the manners of their staff and the personalized service for each and every guest. The Park Hyatt is extremely particular about the details and it shows. We had actually stayed at this hotel about 2 and a half years ago. They welcomed us back and even remembered my morning newspaper choice (Wall Street Journal, not sure why). We didn't even have to check in. Within minutes of our arrival, we were ushered to our room by a bell boy who made sure to ask us what time we wanted breakfast and if I would still like the to have the Wall Street Journal in the morning. This hotel is obsessed with the details and it shows.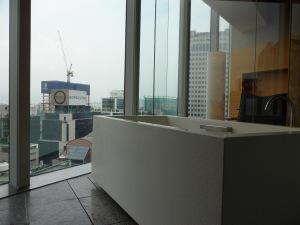 A deep bathtub with a view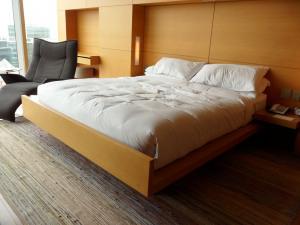 Our very comfortable bed
For our anniversary dinner, we went to On The Border. I know it doesn't sound like much, but it serves some of the best Mexican food in Seoul and is located in the COEX mall (which is across the street from the hotel). We both ate too many nacho chips, tacos, empanadas, taquitos, enchiladas, rice and beans.  It was definitely fulfilling, even if it didn't seem to agree with our digestive systems hours later.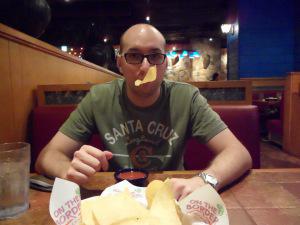 Enjoying some nacho chips
The next day, my wife surprised me with a massage in the hotel spa. That was well worth the money and extremely relaxing. Once again, the details were well-looked after from the lounge area, to well-stocked lockers to the bowl of flowers that you could stare at from your face pillow.
It's been 7 years since we were married in Newfoundland and we celebrated it well here in Seoul.
Check out the rest of the photos here.