I'm a great fan of Semrush and it's not just once or twice that I've discussed Semrush in my blog, but there are many articles.
But Semrush keeps upgrading with more tools and more features and in fact, we're going to look at the Semrush updates all through this article.
So what's new for us to take?
The New Semrush
Although pandemic was tough for everyone in the year 2020, it has thought us more valuable life lessons. So all the very best thing we could do is to take the positive things and ignore the negativity.
I'm glad to see that even Semrush has taken the positive change and looks like they are set for the new normal…
SEMrush is not SEMrush is anymore it is Semrush from now on
Did you get it?
Semrush has done a complete rebranding, which came as a surprise and the best thing is that is more awesome.
Apart from the way their brand is written & expressed, they've also got a new logo.

What's your thought on this new logo?
7 Semrush Updates
Semrush is a market leader in the SEO and digital marketing industry. And it is no doubt they keep improving themselves with more and more features.
As you already know they have got over 100 features that I've earlier covered in my article too. And in fact, their databases have also grown 10x times just in the last couple of years.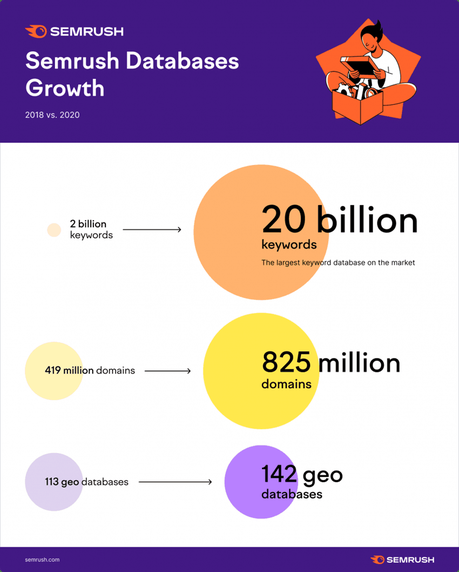 To add up, they've even got over 30+ updates and improvements in the last year (2020) and you can find detailed coverage from Semrush on their updates here.
But, today I will be covering up some interesting updates that caught my attention.
1) Global Volume Metric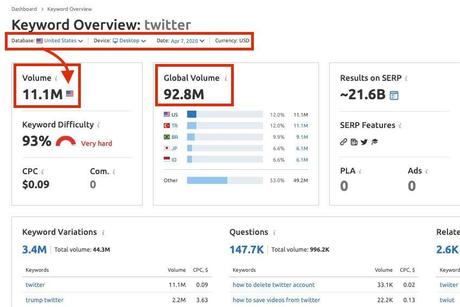 Semrush became quite popular in the initial years for its Keyword Research Tool. The Keyword Magic Tool helped users to identify more low-hanging keywords (low competitive Keywords) and pick them to rank high.
In the last year, they've added one more metric to the toolkit — Global Volume
Why do I like this metric?
Earlier when running keyword research if you're targeting a global audience, it was difficult to know the exact search volume worldwide.
For instance, the keyword research on a product/brand, which could be so popular in one country, but might not be popular in another.
So, if you're researching keywords in the wrong demographic, then you're missing out a lot. But now, the Global volume metric will show the overall search volume worldwide & country-wise.
2) Worldwide Traffic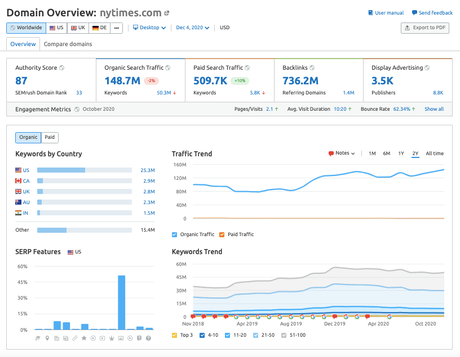 As you might be already aware, Semrush allows us to view domain overview country-specific. Now they've added a new view for WorldWide traffic view too
Why do I like this new view?
Earlier I used to check the metrics of a domain concerning a country where the site performed top & it would be really difficult to go through different country-wise.
With the new worldwide view, I'd able get to know how much of traffic they're receiving in total and which countries are they ranking well.
3) Schema Markup Report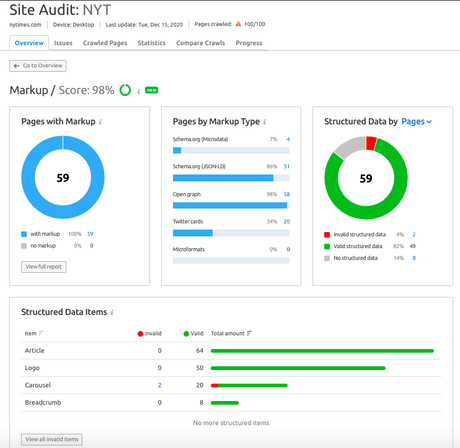 I had been a great fan of the Site Audit tool at Semrush as it helps me get to know the issues with my website.
And now they've added one more feature — Schema Markup Report
If you're looking for other tools where you can get a similar report, then you should be looking at Google Search Console. But then they are focused more on the errors and warnings with your structured data.
Why do I like this new report?
Google Search Console displays the errors and other reports only for the pages they've crawled. But what if Googlebot is yet to crawl & index some of your new changes to your content.
Hence, it is wise to use an alternate tool that will crawl your entire report and display the live result.
4) Content Marketplace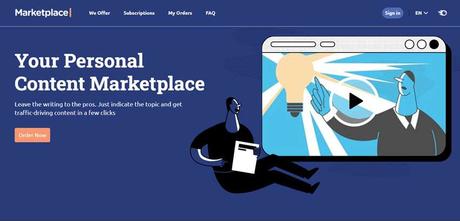 I was a great fan of ContentMart personally, which was started in 2015 by Anton Rublevskyy. It was India's first Content Marketplace to help businesses with their content requirements.
It was a place where bloggers, eCommerce website owners hang out to find writers for their content strategy. It is said the ContentMarket connected over 103,000 writers with more than 110,000 international clients. Unfortunately, the platform was shut down in 2018.
Since then I haven't come across a platform dedicated to getting content written.
Fortunately, the new Content Marketplace from Semrush could resolve the issue.
Why do I like this platform?
Semrush has got in-house content writers for Content Marketplace, which means they're SEO knowledgeable writers and who could offer a great piece of content, that could rank for potential rankings. Afterall, Semrush blog has got high-quality standards & we could expect some high quality from their Content Marketplace too.
5) ImpactHero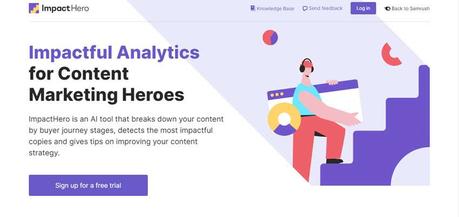 ImpactHero is a new tool launched by Semrush, which is an artificial intelligence tool that breaks down your content into different buyer journey stages, checks for the most impactful copies and to give you suggestions for improving the content strategy.
This is a great tool if your business is dependent on a content marketing strategy
Why do I like this new tool?
When I started blogging, I had no clue whether my content is well received among my readers, whether they are influenced by it, and if my writing skills are up to that level.
Although over the period I've improved a lot, it would've been awesome to have a tool like ImpactHero that scores my content with metrics & would have been great to get feedback to keep improving.
Pro Tip:
You can integrate the Semrush Content Marketing Toolkit along with ImpactHero for better benefits.
With Semrush Content Marketing Toolkit,
You can research topics
Generate SEO Content Template
Craft a quality content
Check it with ImpactHero for your performance
And keep optimizing for better results

6) Sellerly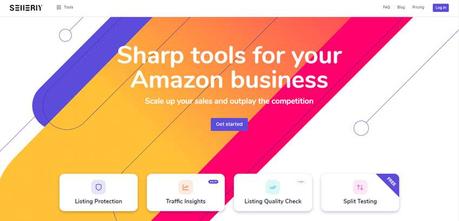 Just like Search Engine Optimization, selling on Amazon is a whole new world. And the new Sellerly platform is launched dedicated to Amazon Business.
Sellerly Tools:
Sellerly has got different tools like,
Amazon Listing Protection: It keeps track of your buy box positions, listing suppressions, product prices being changed, etc and keeps you updated all in one single place
Amazon Traffic Insights: Promoting your products is important to get more sales at Amazon. The tool lets you evaluate various traffic channels, analyze promotional strategies & helps you scale up your marketing activity
Split Testing: It is a free A/B testing tool to increase your conversions by testing titles, descriptions, images, and prices. You can adjust your listing within the platform and get live stats & check your profits grow all in one place
Listing Quality Check: Amazon has got strict guidelines for their sellers, as these sellers represent the Amazon brand itself. So you need to ensure your product listing inline with their guidelines, avoid content errors & look for incompleteness. This tool identifies all the errors so you don't have to do that manually and offers recommendations, so you focus only on improving the visibility
Why do I like this new platform?
If you're already into selling products at Amazon, you would be aware of the importance of buy boxes. It is something similar to the featured snippet in search results, which tends to get more clicks, while buy box can get you more sales at Amazon.
7) Prowly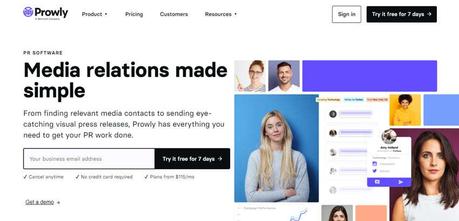 Semrush has acquired a fast-growing PR platform called Prowly. The SAAS platform has been on the radar of Semrush for the last few years, which has got everything you need to do with PR.
What can you do with Prowly?
With Prowly you can,
Find Journalist
Create Press Releases
Pitch the Media
Manage PR Contacts
Publish Press releases
Why do I like this update?
Although I'm not into PR as of now, I'm well aware of the benefits. I've been using HARO for a long period for link building & have witnessed the potential benefits of being mentioned by top media websites. And with a professional platform to scale up the media reach out, it would be even great for small businesses for word-of-mouth marketing.
Semrush New Pricing
Semrush has also updated its pricing recently. So here is the latest pricing for you:
ProGuruBusiness

5 Projects15 Projects40 Projects

500 Keywords to track1500 Keywords to track5000 Keywords to track

100,000 Pages to crawl300,000 Pages to crawl1,000,000 Pages to crawl

10,000 Results per report30,000 Results per report50,000 Results per report

250 Keyword metrics updates per month1000 Keyword metrics updates per month5000 Keyword metrics updates per month

500 SEO Ideas Units800 SEO Ideas Units2000 SEO Ideas Units

50 Social Media Profiles for monitoring100 Social Media Profiles for monitoring300 Social Media Profiles for monitoring

10 Social Media Profiles for posting30 Social Media Profiles for posting50 Social Media Profiles for posting

5 Scheduled PDF reports20 Scheduled PDF reports50 Scheduled PDF reports

$119.95/mo$229.95/mo$449.95/mo

Signup NowSignup NowSignup Now
Wrapping Up
Semrush is undoubtedly a complete digital marketing toolkit & and if you haven't tried out this platform yet, they are offering a 7-day free trial (after all, it's free to get started)
Get started with Semrush Free Trial!
$This is an affiliate link
I hope you'd have liked my insights on the Semrush updates. And feel free to share the one you liked in the comments section.
Related articles you might like:
9 Semrush Courses to help you learn and master SEO
7 Amazing Semrush tools you can use for earning passive income
How to use the Semrush Organic Research tool to boost traffic?
References
Semrush Stats and Facts – Semrush
How this startup is revolutionizing freelance writing services — The Startup Journal
Contentmart shuts down: A brief history — Candid.Technology
What is Search Volume in Semrush — Semrush Knowledge Base
Back to Featured Articles on

About the author

Nirmalkumar1997 View profile
View Blog


THE %(site_name)s COMMUNITY