Intelligent buildings, also known as integrated buildings, are complex organisms whose information networks, like nervous systems, branch into all of their parts using state-of-the-art computer technology. These systems often go beyond automated lighting, shading, and HVAC configurations and involve advanced, real-time controls of the building's energy efficiency, comfort levels, access, fire alarms, and other elements. Integrated networks connect to various aspects of a building's infrastructure, but these systems don't have to be physical. In cases of exceptionally smart buildings, these systems are connected using an external network like the internet, and can be controlled remotely. Most advanced intelligent building solutions are often found in buildings that may lack architectural flashiness but successfully demonstrate how digitally driven design can influence the environmental, structural, and energy profile of a built project. These seven examples showcase responsive and intelligent systems in action.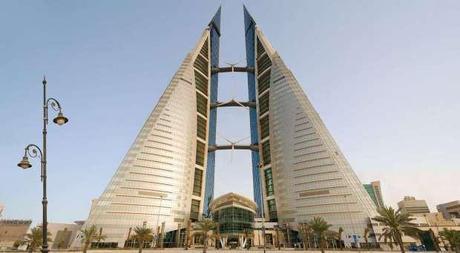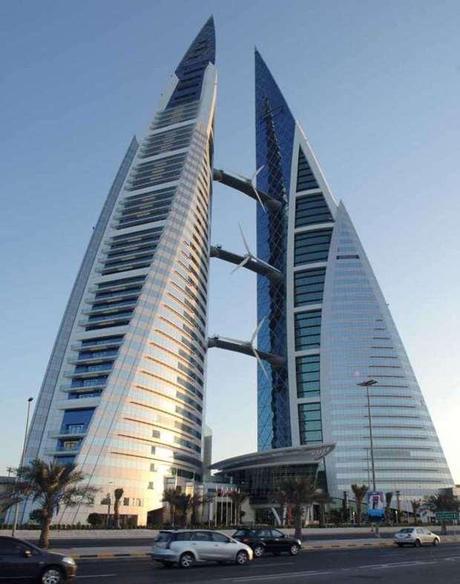 Bahrain World Trade Center by Atkins
Bahrain World Trade Center is a modern interpretation of traditional Arabian wind towers, which were used to harness onshore winds off the Arabian Gulf. The shape of the building channels the airflow through three turbines that are 95 feet in diameter; these are supported on the bridges that connect the two 787-foot-high towers. The turbines generate around 11–15 percent of the buildings' energy needs. The center also features advanced security systems, high-speed broadband internet access with IP telephony, and wireless, unified messaging on a single, converged voice-data-video network.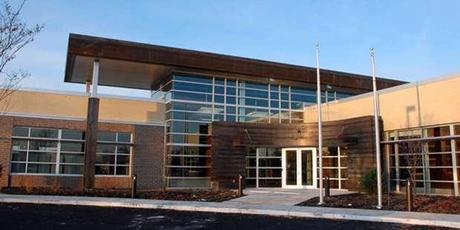 Environmental Systems Inc. (ESI) HQ, Wisconsin
The Environmental Systems Inc. (ESI) Headquarters in Brookfield, Wisconsin, is one of the most intelligent buildings in the world, automated to such a degree that even its fire extinguishers are controlled over the internet. This corporate headquarters is a showpiece of technology and features systems that significantly reduce its operating costs. The building received an Energy Star rating of 98, with utility costs 33 percent lower than what they were in the previous building, despite the fact that the new building is 10,000 square feet larger than its predecessor.
The building lobby features large flat-screen monitors that show real-time information about the building's performance. These parameters include measurements related to energy, the HVAC system, lighting, and plug loads. The alarm system is connected to the BAS (Building Automation System), while the system monitors fire extinguishers and ensures that they have proper pressure, are in place, and are not obstructed.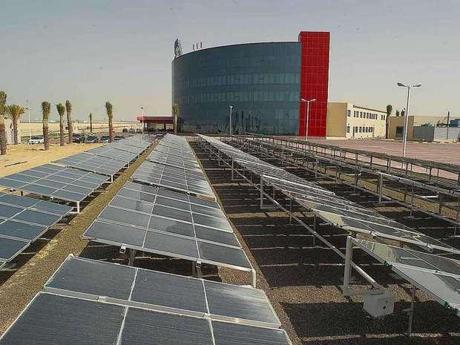 Pacific Controls Building, Dubai
The Middle East's first platinum-rated LEED project, Pacific Controls Building in Dubai has an integrated building automation system that uses both wired and wireless sensors, controls, and M2M communications, which make it an icon of sustainability in the region. The building features an IP backbone with control for access, audio and video cameras, elevators, and fire alarms. It houses the company's research and development activities and will also remotely monitor facility services for the public and private properties in the region.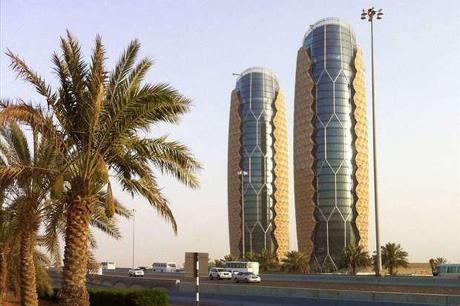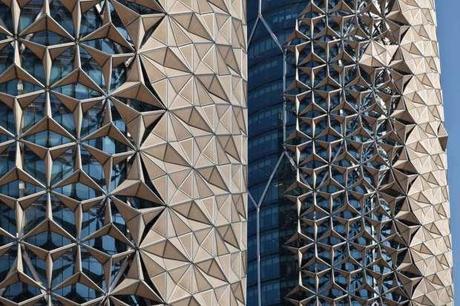 Al-Bahr, Abu Dhabi, by Aedas Architects
Clad with a unique dynamic shading system meant to reduce the buildings' solar gain by 50 percent, Aedas' Al Bahr Towers manages to test the limits of responsive design. The facade features a system inspired by the traditional Islamic latticework, mashrabiya, which is completely computerized to adjust to changing weather conditions.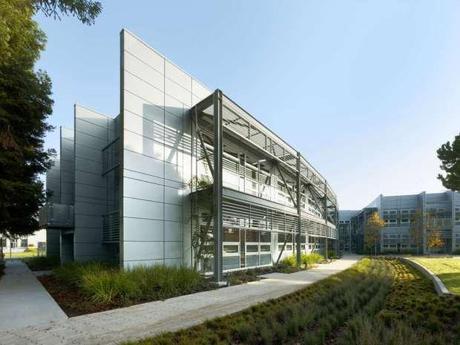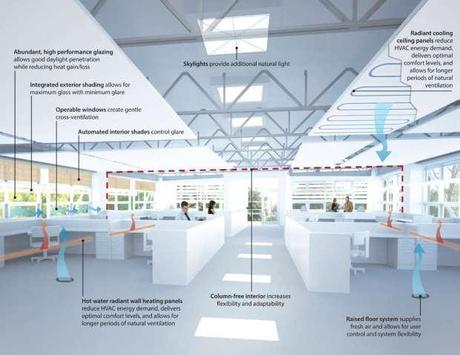 NASA Sustainability Base in Moffett Field, California by William McDonough Partners
NASA's new facility in California is not your average government building. The crescent-shaped building boasts an intelligent control technology inspired by the agency's Aviation Safety Program that provides guidance control for aircrafts. This technology was used to control different zones within the building and provide real-time data about the airflow through the entire structure. William McDonough Partners, known for its cradle-to-cradle design approach, primarily used materials that were salvaged, renewable, recyclable or recycled.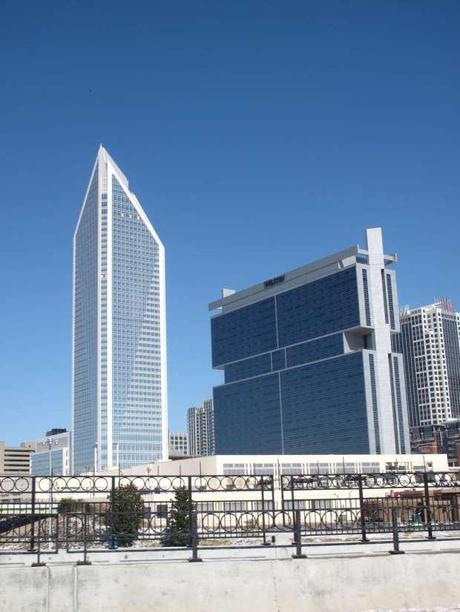 The Duke Energy Center, Charlotte, North Carolina
This platinum-certified LEED structure features a building automation system by Siemens that integrates multiple platforms and protocols, running 16 independent systems over one IP network. Tenants can get data on power consumption, HVAC, and lighting loads on a floor-by-floor basis. Building systems can monitor, detect, and notify engineers of potential problems. There are two massive underground tanks for groundwater and rainwater storage, while the building's irrigation system tracks rainwater and evaporation rates to minimize water usage for the roof garden and the adjacent park.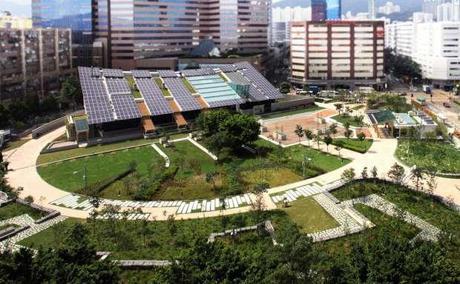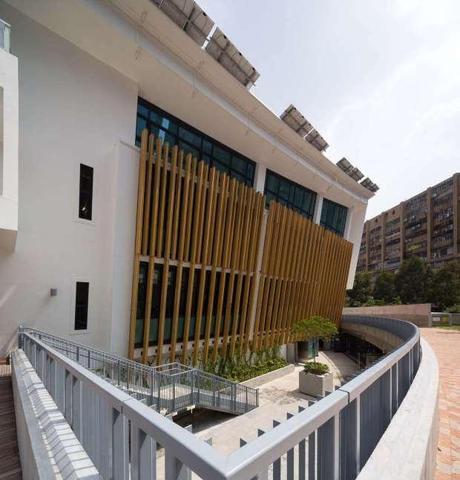 Mansion ZCB, Hong Kong, by Ronald Lu & Partners
The first zero-carbon building in Hong Kong, Mansion ZCB combines passive design features with highly energy-efficient active systems like high-volume-low-speed fans, a chilled beam cooling system, and smart control systems that can reduce energy demand by 25 percent. The building aims to achieve an "energy-plus" status that goes beyond carbon neutrality and generates electricity greater than the structure's requirements. A tailor-made BEPAD (Building Environmental Performance Assessment Dashboard) system displays real-time data and assesses the environmental performance of the building, providing information on energy use, water use, occupancy, indoor environmental quality, and other statistics. These are monitored by the BMS (Building Management System) that collects data from 2,800 sensing points throughout the structure.
All images via the architects, except for Pacific Controls Building, which is via Panoramio.