Urad dal or black gram is a significant protein food that is used in Indian cooking. The spicy urad dal curry from the north, idli, dosa, and urad dal vada from the south, etc are some of the famous recipes using urad dal. Here are a few healthy urad dal recipes for kids that you can make easily.

Urad dal for babies
Starting from 8 months, babies can be introduced to urad dal in the form of idli, kichadi, porridge, etc. Urad dal will improve digestion and brain development. It also helps in developing and strengthening the bones. It is good tummy-filling food. Being rich in carbohydrates, fats, and proteins, urad dal makes an excellent weight gaining food for babies and kids.
Health benefits of Urad dal for pregnant women and teenage girls
Since the urad dal recipes I am going to share are suitable for both kids and adults alike, let me also talk about some health benefits of including urad dal in the diet of young ladies.
One cup of cooked urad dal meets about 69.30% of your daily requirement of folic acid. Hence, including urad dal in a pregnant women's regular diet will help the fetal brain development. In some regions, towards the end of the third-trimester Ulundhu Kali is prepared and given to the expecting mother. This is expected to strengthen her backbone and also helps for easy delivery. Before breakfast, my mother-in-law used to give me a bowl of Ulundnu Kali with lots of sesame oil during pregnancy.
Also, when a girl enters puberty, lots of particular food and home remedies are followed in South India for a couple of weeks. I am a vegetarian, so my mom and grandma made lots of urad dal recipes for me when I hit my menarche. The urad dal will give strength to the uterus. The kali is also given to the girl for 14 days along with the palm jaggery, sesame oil, and dry ginger. All these are packed with protein, folic acid, omega 6, calcium, vitamin E, potassium, zinc, copper, etc.
Urad dal is also very good for heart health and controls cholesterol levels.
♦ Read:
Top 50 Foods for Weight Gain in Babies and Kids
7 Healthy Urad Dal Recipes for Kids and Grown-Ups too
Now that you know the health benefits of urad dal, let's see the easy recipes that you can make with urad dal.
#1. Medu vada Recipe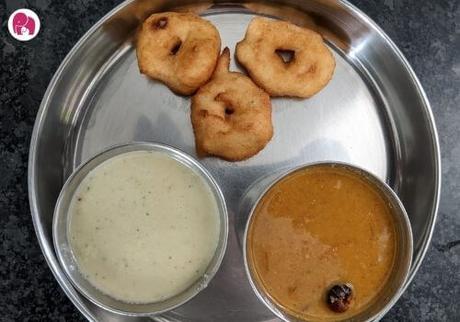 Ingredients
Medu vada, also known as Ulunthu vadai or medhu vadai, is a popular South Indian breakfast recipe. Idli, medu vada, and filter coffee are the preferred South Indian breakfast combo. The crispy outer layer and the soft and spongy inside of the medu vada will take you to heaven when combined with sambar and chutney.
We need to begin by soaking the urad dal and a teaspoon of raw rice together for 2 hours. After two hours of soaking, transfer the urad dal into a strainer, let all the water drain out.
Next, on the wet grinder, when it is running add the dal little by little. Do not add more water. Just sprinkle little by little. If you don't have a wet grinder use mixer.
After grinding, you should get a thick batter. Now with the help of a whisk or using your hand beat the batter nicely for 3 to 5 minutes. This will help the batter to become fluffy.
Now to the vada batter add peppercorns, jeera, chopped green chili, ginger, curry leaves, and coriander leaves and mix everything nicely. Meanwhile, heat the oil in a Kadai for deep frying.
Keep ready two bowls of water and one hand towel near the stove. Just before making the vada add the required salt and give it a good mix.
Now the trickiest part. Getting the perfect doughnut shape is undoubtedly a big task when you make medu vada. But believe me, following the below tips n tricks will help. Wet your hand in the water and take a small ball sized batter. Just roll it twice to shape it into a good ball and press it slightly to flatten it. Now dip your thump finger in the water and poke in the center carefully to make a hole. Drop the vada carefully into the hot oil. As the hand is wet, the vada will easily slide into the oil. Fry it till light golden brown.
NOTE:
Repeat the same for the remaining batter.
Now that you have made the medu vadas, let me give you some amazing combinations using it that you can devour at any time of the day.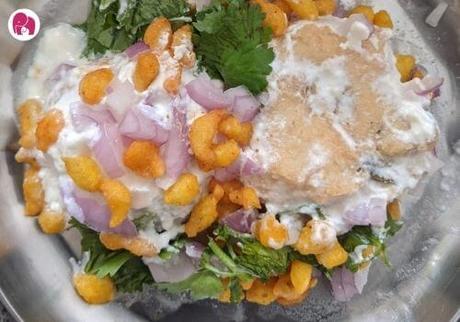 Sambar vada

In a serving bowl add two vadas and pour hot tiffin sambar over the vada. fill 3/4th of the cup with sambar. Add chopped onions and coriander leaves and serve after 15 minutes. If the vada absorbed all the sambar add a little more sambar at the time of serving.


Dhahi vada/ tayir vadai

Make medu vadas. Dip the vadas in hot water and squeeze them. Whisk or beat thick curd nicely. In a serving bowl add two squeezed vadas, pour the curd over it, and add chopped onions and coriander leaves. Add a few drops of mint chutney and kara boondhi on the top and serve. The tayir vadas can also be chilled and served.
#2. Urad dal Jamun Recipe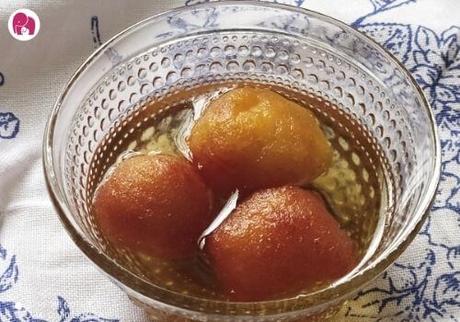 Ingredients
For the sugar syrup
Urad dal Jamun is a yummy twist to the traditional gulab jamun and is a good healthy treat for kids above 1 year of age.
Begin by soaking the urad dal and raw rice together for 2 hours. After two hours of soaking, transfer the urad dal into a strainer, let all the water drain out.
Next, on the wet grinder, when it is running add the dal little by little. Do not add more water. Just sprinkle the water little by little, when needed. If you don't have a wet grinder, a mixer is fine as well. The batter should be of thick consistency.
After grinding, with the help of a whisk or with your hand beat the batter nicely for 3 to 5 minutes to make it fluffy.
Heat a Kadai with oil. Now add a pinch of salt to the batter and mix. Wet your hands with water and take a small portion of the batter and roll it to a round shape, drop in the oil. You can add four to five balls at once. Fry all the balls batch by batch. Remove it out from the oil add them to the sugar syrup(recipe given next). Repeat the same for the remaining batter.
For the sugar syrup, in a wide pan add the sugar and water and place it on the stove. Mix and dilute the sugar and boil till it reaches the one string consistency. Add the elachi powder and mix well. Keep it aside. Prepare the sugar syrup just before frying the Jamuns.
Soak the Urad dal Jamuns for two hours in the sugar syrup. Now urad dal Jamun is ready to be served. Give it a try with ice cream too.
Note: In case the batter is watery add little rice flour or maida.
#3. Urad dal Jaggery Ladoo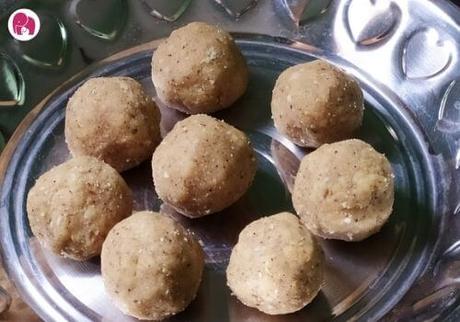 Ingredients
Method
I usually use white urad dal for the ladoo recipe here but t his can be prepared using skinned urad dal(black urad dal) too. The shelf-life of this is two or three days.
Firstly, dry roast the urad dal in a Kadai. Next, break the jaggery into small pieces and scrape the coconut, and keep them aside.
Now, saute the coconut and cashew in the ghee.
After that, in a dry mixer jar add the urad dal and powder it first. Then add the jaggery, elachi powder, and salt and pulse for a couple of times. Now add the jaggery and mix nicely. Add jaggery in the end only to help it combine well with the dal.
Finally, mix the fried cashew and coconut with the urad dal and jaggery powder. Grease your hands with ghee, start making the small lemon sized balls. Add ghee/sesame if you find it difficult to shape it round.
Grease your hand with ghee before making each ball.
Grind the dal in batches if the quantity is extra.
#4. Urad dal Sweet Vada or Vellam Vadai Recipe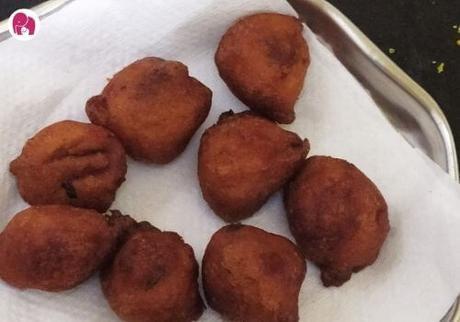 Ingredients
Just two to three of these sweet treats will make a good evening snack for kids. You can pack them for school too. Prepare the batter the previous day, store them in the fridge and just deep fry in the morning and pack them in the snacks box. So now let's see this healthy urad dal recipe for kids.
First, soak the urad dal for 1 hour.
Next, transfer the soaked urad dal into a strainer. let it rest in the strainer for 10 minutes.
Break the jaggery and keep aside.
Once the water drains completely, transfer the urad dal into a mixer jar and grind it to smooth batter. Add the jaggery and grind it together again.
Now transfer the batter to a wide bowl and add the cardamom powder, and beat nicely with a whisk or your hand for 5 minutes.
Add the rice flour and once again beat well. The batter should be thick. Add extra rice flour if the batter is loose.
Heat the oil in the Kadai, wet your hand in the water, and take a small portion( a teaspoon size is enough) of the batter. Just roll it once and drop it in the oil, fry it in medium to low flame. Repeat the same for the remaining batter. You can fry 5 to 7 sweet vadas at once depending upon the size of your pan.
#5. Urad Dal Masala Khichdi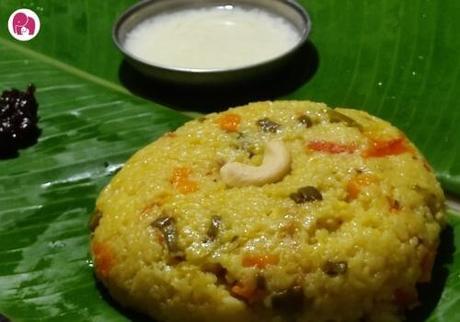 Ingredients
This khichdi is a one-pot meal ideal for breakfast. A warm bowl of khichdi makes the best comfort food for babies and kids.
broken rice - ½ cup
urad dal - ¼ cup
moong dal - 2 tablespoon
ginger & garlic - ½ teaspoon (minced)
Onion - 1 chopped
Tomato - 1 chopped
Green chili - 1 or 2
cinnamon sticks- 1 inch
clove - 2 nos
salt - as required
ghee - 3 tablespoon
mixed vegetables - ¼ cup ( carrot, beans, cauliflower, potato, etc)
Soak the rice for 15 mins. Dry roast the moong dal and urad till you get the aroma. Chop the veggies.
Now in a cooker, add 2 tablespoons of the ghee. Add cinnamon sticks and clove. Add the chopped onions, minced ginger and garlic, green chilies, and finely chopped tomatoes. Saute well. Next, add the chopped veggies. Once the veggies soften add rice and both the dals, salt, and 3 glasses of water. Pressure cook for 5 whistles. Once the pressure realizes add the remaining ghee and mix well and serve warm.
#6. Ulanthu kali or Urad dal Kali
Ingredients
Method
Ulanthu Kali is a traditional urad dal recipe using black split urad dal. It is given to pregnant women and also makes a good postpartum recipe for lactating moms. Urad dal kali can be given to toddlers and kids for weight gain as well and for young girls during their early puberty days as it is good for the uterus.
First, dry roast the urad dal in a dry pan, till you get a light color change. In the same Kadai roast the rice.
Now, cool the urad dal, and rice together, and powder them. After the powder cools sieve it and keep it ready.
Now, in a bowl add the urad dal powder and mix it with water, the consistency should be like dosa batter. Add water accordingly. Keep it aside.
Next, break the jaggery into small pieces. In a pan add ¼ cup of water and add the broken jaggery and crushed dry ginger. Place it on the stove and melt it. Once it melts strain it and keep it ready.
In a wide iron pan (can use any pan, iron pans are healthier) add one tablespoon of sesame oil and one tablespoon of ghee and heat it.
Now, add the urad dal batter to the iron Kadai and mix it well. After that add half of the jaggery syrup and mix it again.
Keep on mixing it, add the remaining oil and jaggery syrup little by little at regular intervals.
At one stage the urad dal will not stick to the Kadai/pan and the texture will be similar to halwa. At that time add 1 tablespoon of ghee and mix it once again, and transfer to a plate. You can have them as such or you can grease your hand with oil/ghee and roll them into round shapes and store it in a container to consume later.
#7. Urad dal poori
Ingredients
Method
Bedmi puri or urad dal poori is popular street food in North India. These are a good breakfast or snack option for kids.
First, soak the urad dal for 2 hours and drain it. Then grind it to a coarse batter by adding chopped green chili. Don't add extra water.
Next, in a wide bowl or big plate add all the ingredients except oil. Then combine well without water, in case you need to, then add very little water and combine well. The dough should not stick to the hand. Roll it to a lemon sized ball and grease it with oil, cover and rest the dough for 15 minutes.
Now, divide the dough into equal size small balls.
After that press them into a circular shape, width a little thicker than chapati. Heat oil in a Kadai keeping the flame normal to high. Carefully fry the pooris one by one.
Enjoy with simple side dishes like curd or pickle. Curd is my preferred side dish for this poori.
So these are some of the healthy urad dal recipes I usually prepare at home for my kids. They are excellent for weight gain and bone health. The ingredients in the urad dal recipes I have given here can be adjusted according to the age of the child. For babies of age less than 1 year, avoid salt and adjust spice levels accordingly. Sweet recipes using urad dal are ideal for toddlers as a sweet snack.
Do try these recipes and let me know how your family liked them. Also, share in the comments any urad dal recipes you prepare at home. Sharing is caring.