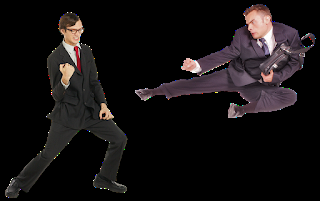 Image via Pixabay 
The Five Percent: Finding Solutions to Seemingly Impossible Conflicts
Know what type of conflict you are in. The first step is to assess whether the conflict is win-lose, win-win, or mixed (some competing and some shared goals). Each of the three types requires different strategies and tactics. Learning how to identify and respond to each type is central to success. Try a good business mentor to get you on the right track.

Not all conflicts are bad. Most often, conflicts present us with opportunities to solve problems and bring about necessary changes, to learn more about ourselves and the business, and to innovate – to go beyond what we already know and do. Avoid the ones that are irrelevant to your startup, but don't hesitate to engage in the others.

Whenever possible, cooperate. Research has consistently shown that more collaborative approaches to resolving win-win or mixed-motive disputes (the majority of conflicts) work best. Therefore you should always approach conflicts with others as mutually shared problems to be solved together.

Be flexible. Try to distinguish your position in a conflict ("I need a raise") from your underlying needs and interests in the relationship ("I want more respect for my contribution"). Your initial position may severely limit your options. Creativity and openness to exploration are essential to constructive solutions.

Do not personalize. Try to keep the problem separate from the person when in conflict (do not make them the problem). When conflicts become personal, the rules change, the stakes get higher, emotions spike, and the conflict can quickly become unmanageable.

Meet face-to-face and listen carefully. Meet in a neutral location, and work hard to listen to the other side in a conflict. Accurate information is critical, and careful listening communicates respect. This alone will move the conflict in a more friendly and constructive direction. Don't mistake sending text messages and emails as listening.

Be fair, firm, and friendly. Research shows that the process of how conflicts are handled in usually more important than the outcomes of conflicts. Always attempt to be reasonable, respectful and persistent, but do not cave in. Find a way to make sure your needs are met.