Siopao is a well-loved snack in the Philippines. It was introduced to the Filipinos by Ma Mon Luk who has a very interesting story on the origin of this delectable bun.
But let's first get into the recipe-making already!
Siopao or steamed buns have become a favorite among Filipinos and have become one of the most bought Filipino foods.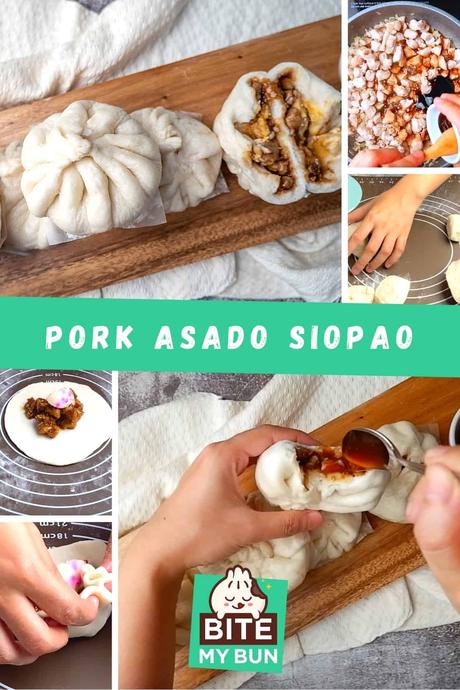 Siopao Recipe Preparation Tips
Though Siopao can be bought easily, you can cook it on your own. Preparing your very own Siopao isn't really hard but you have to be careful on the dough.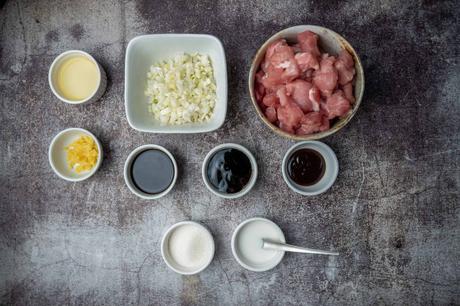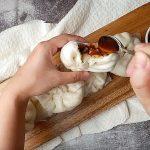 Print
Siopao Pork Asado recipe with dough from scratch
Siopao is a well-loved snack in the Philippines. The Siopao Recipe was introduced to the Filipinos by Ma Mon Luk who has a very interesting story on the origin of this delectable sandwich.
Course
Snack
Cuisine
Filipino
Keyword
Siopao
Prep Time
30
minutes
Cook Time
50
minutes
Steaming time
10
minutes
Total Time
1
hour
30
minutes
Servings
7
people
Calories
196
kcal
Author
Joost Nusselder
Cost
$5
Ingredients
dough:
¼

cup

lukewarm water

1

tsp

yeast

1½

cups

all-purpose flour

(more for dusting)

¼

cup

sugar

½

cup

lukewarm milk

a pinch of salt
Asado filling:
1

tbsp

vegetable oil

or you can use lard

1

lbs

pork

sliced into small cubes

1

tbsp

garlic

minced

½

white onion

diced

2

tbsp

soy sauce

1½

tbsp

oyster sauce

½

tbsp

hoisin sauce

2

tbsp

white sugar

1

tbsp

corn starch

(dissolved into 2 tbsp water)
Separate filling:
2

eggs

hard boiled red shelled or Salted eggs *optional, but very delicious*
Instructions
Siopao pork asado filling recipe
Over medium heat, heat a pan. Once the pan is hot, add in the oil.
Add and saute the garlic until fragrant. Then, add onions and saute it until translucent, about 1 minute.
Add the pork cubes and mix them with garlic and onions. Let it cook until they are no longer pink in color.
Stir in soy sauce, oyster sauce, hoisin sauce, and sugar. Mix it until well combined. Simmer until the sauce thickens up a bit.
Now, pour in the cornstarch mix and stir. Simmer it for 5 minutes. Remove from heat while you prepare the dough for the siopao buns.
Siopao dough recipe
Dissolve the sugar in the lukewarm water.

Proof the yeast with warm milk and wait for few mins or until bubbles form. Proofing is to sprinkle the yeast over the surface of the milk and tiny bubbles should begin to appear on the surface or around the edge of the container and it should start to smell yeasty.

Then stir to combine your milk-yeast mixture and water-sugar mixture.

Add flour to the mixture little by little until the 1 1/2 cups are fully dissolved.

Roll out the dough on a floured surface and knead.

Slowly add in more flour as needed until you form a nice consistency.

Then form it into a ball.

Place the dough in an oiled container then covered it with a moist towel and place it in an airless area. Let it rise for 30-45 mins. After 45 mins, punch the dough to let the air out then knead the dough for at least 2 mins.

Then again, let it rest for 5-10 mins (make sure you cover it with the moist towel again)

Then divide it into 8-10 pcs or depending on how big you want them.
Form the balls:
Now to form a ball: using a roller pin, flatten each individual ball then place the filling in the middle. I usually flatten the patties first to insert hard-boiled eggs in the center. (I divide one boiled egg into four) before I form it into a ball. But again, the hard-boiled or salted eggs are optional.

Seal each piece of dough into a ball by just joining the ends.

Place each dough ball in a 2 inch by 2-inch wax paper.

Then let it rise for 30mins again and steam each batch for 15-20 mins.

Serve with any kind of Pancit.
Video
Nutrition
Calories:
196
kcal
You can buy Siopao almost anywhere; from well-known restaurants to even from the sidewalk vendors.
The Siopao Recipe has many variations but the most common is the Asado and Bola Bola. The price also varies depending on where you'll buy it from.
How to make siopao dough
To ensure good tasting dough, make sure that you follow the accurate measurements of the ingredients which you should have bought from good sources.
Preparation may not take long but cooking time takes quite a few hours. You have to cook the meat filling first before preparing the dough and the dough has to have time to rise.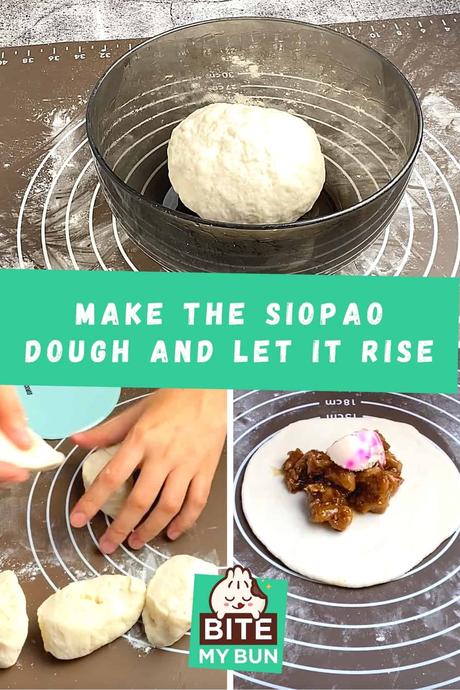 There aren't many ingredients and sautéing the ingredients well is the secret to make a very delicious siopao.
It will be a surprise for the kids once they taste this new dish you have prepared.
How to serve siopao
When you're done, the best partner for this Siopao Recipe is Mami, any type of Pancit Recipes and it will be lip-smacking good if you will also have a few pieces of siomai on the side.
Calamansi, chili garlic oil and soy sauce is the best condiment for the Siomai and mami while preparing your very own Siopao sauce make it all the more perfect.
People prefer either a sweet or hot sauce for the Siopao so if you're preparing this recipe for a group of people, make sure that you have made both kinds of sauces for everyone to enjoy.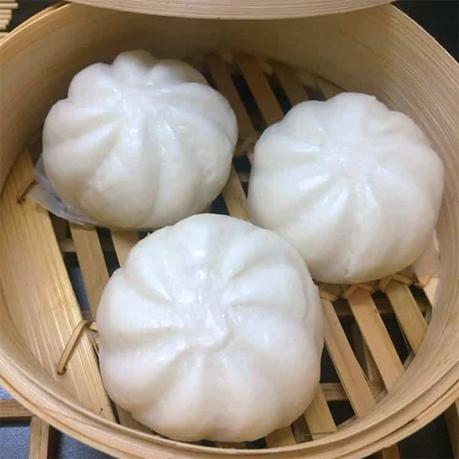 History of siopao: is it Chinese or Filipino?
Ma Mon Luk, or Ma Wen-lu in Chinese, came to the Philippines in 1918 because he wanted to get over a heartache and for this to happen, he devoted his life to build a grand business: thus the birth of the Siopao, Mami (Chicken Mami) and Siomai industry.
Siopao pares (pairs)
For Chinese people, they love to have tea to pair these buns with, but for most Filipinos, Soda or Gulaman is the perfect partner.
Siopao may seem like a simple snack or go-to food but it will satisfy the hungry tummy because of its meat filling and the dough of course.
Conclusion
Being able to cook your own Siopao will add savings to your budget and can also assure you that your family will be eating a clean and sanitary meal.
This will help prevent any untoward health risk, especially for the kids. That's the advantage of being able to cook your own meal.
You can start adding this to the snacks that you prepare for the family. You can bet that the kids will love this truly appetizing snack.