New to little Indiana? Subscribe for free to my RSS feed. Thanks for stopping by!
There's still time to make a few of the little Indiana family's favorite cookie recipes. Some of these are always a part of our Christmas cookie tray (like Reindeer Mix and Caramel Creme Sandwich Cookies) while others are a new addition (I'm looking at you Cherry Chocolate Kisses).
Either way, I love everything written here. Well, obviously I love everything here on little Indiana or it wouldn't be here–but these are the things that fairly scream "Merry Christmas!" to me and mine. Enjoy!
Best Christmas Cookie Recipes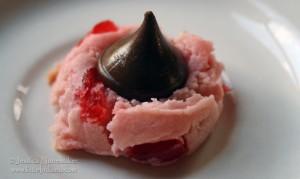 Cherry Chocolate Kisses Cookie Recipe
Cherry Chocolate Kisses Cookie Recipe — Please meet my new favorite cookie. Even people who say that they dislike cherries find themselves coming back for more. You won't believe how fast they disappear!
Soft Snickerdoodle Cookies Recipe – I hated Snickerdoodle cookies as a kid. They were always hard and tasteless (sorry, mom). But then I discovered this recipe and decided to give it a go. Am I glad I did! They are soft, easy to make, and the kids love to roll them in the cinnamon-sugar mixture at the end.
Christmas Popcorn Recipe — This is festive. This is good. This is popcorn coated in white chocolate for goodness' sake! It's so easy to throw together–and a definite kid-pleaser. If there's any holiday movie-watching in your home, this would be the one to serve!
Caramel Creme Sandwich Cookies – These are a very grown-up cookie! They turn out so pretty you will be proud to serve them!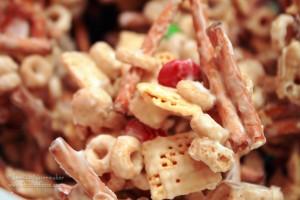 Reindeer Mix Recipe
Homemade Oreo Cookies – Not only would this make a great Christmas cookie tray addition, but they would also be an awesome homemade gift for the Oreo cookie lover in your family.
Monster Cookie Dip Recipe — Our oldest son requests this ALL THE TIME. He's not alone. I'm thinking it might be a nice take-along to a holiday gathering. You are almost guaranteed not to bring the same item as someone else!
Reindeer Mix Recipe – Okay, so it's not a cookie either. However, this is a very long-standing tradition in our family. My husband looks so forward to this one  you wouldn't even believe it. It's something we always had around when I was a kid, snacking while playing board games like Scattergories and Encore. Now? We do the same with our own kids.
Find pictures in Indiana on my Flickr photostream or on the new little Indiana Tumblr blog.
Just don't forget to tell 'em that  little Indiana sent you!
Don't miss a moment. Subscribe to little Indiana and receive instant updates to stay on top of everything "little."