The Red Sox ended their nine-game homestand in style, with a laugher against the Blue Jays, 10-4.
The Sox came out firing, scoring six runs in the first off a wild Ricky Romero. He could never get it together, and by the fourth inning, Romero was gone, having given up nine runs.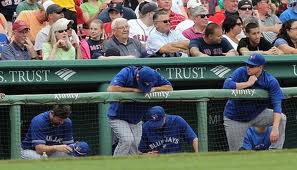 Jon Lester gave up a run in the first, but that was the last time the Blue Jays had the lead. Lester gave up a bomb of a home run to Jose Bautista in the fourth (it dented a guy's car roof in the lot across Lansdowne Street). He also allowed a two-run shot to Edwin Encarnacion in the 6th.
David Ortiz hit his 21st home run of the year, and number 399 of his career after he had walked in his three previous at-bats.
On the day, Adrian Gonzalez had 3 RBI, Mike Aviles 2, Cody Ross scored twice, and Big Papi scored all four times he was on base.
I thought that before this homestand started, the Sox needed to go at least 7-2 on the nine games, and that is exactly what they did. That would bring them back to .500 at home, at 21-21.
Now the Sox hit the road for seven, at Seattle and Oakland, before returning to Fenway for their second series of the year with New York, who lost not one but two pitchers today, as C.C. Sabathia (groin injury) and Andy Pettitte (fractured ankle in today's game) were put on the DL, and will not pitch against the Sox next weekend.