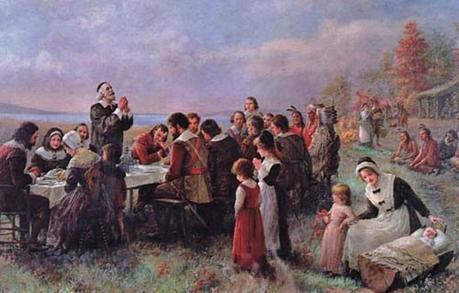 "The First Thanksgiving at Plymouth" (1914) By Jennie A. Brownscombe
Turkey has become the iconic Thanksgiving dinner. Whether baked, roasted, broasted, rotisserie, deep fried, or even explosively deep fried, sometimes you may want to try something different than the classic giant bird.
But don't despair that you might be ruining the feel of a classic or "traditional" thanksgiving feast. While there were many dishes served at the first Thanksgiving feast to celebrate the successful harvest, turkey may not have been the main course.
Here are six main dishes that were very likely served at the first Thanksgiving that you can serve instead of turkey this year for more variety.
Venison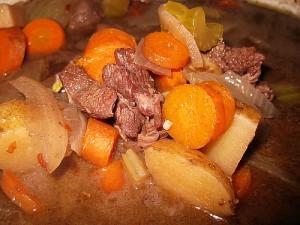 A venison stew like this one – full of vegetables available to the Pilgrims – is a tasty turkey alternative. Photo by Jason Lam.
Venison was most certainly served at the first Thanksgiving, as colony leader Edward Winslow specifically mentions their Wampanoag guests bringing five deer to the feast.
Venison can be a very practical Thanksgiving meal. Since deer season is underway just before the holiday, it will be at its freshest, especially if you harvested it yourself.
Try your venison in a stew with root vegetables, or these venison steaks with cranberry relish.
Pork
Pork, ham, and yes, bacon, were very likely served at the first Thanksgiving. Pigs were a food familiar to the Pilgrims and raising them for food is a relatively simple process.
While they may not be on sale at super-competitive prices before Thanksgiving, opting for a Thanksgiving ham will allow you to skip the crowded turkey bins at your local supermarket.
While you could just cook a ham or pork loin for Thanksgiving, you could use the occasion to try cooking a whole suckling pig. According to Chow.com, it is a very easy dish to cook, and will be a centerpiece as well as the main course of your feast. Most range ovens will be able to accommodate a pig of 18 lbs or less, and it will take about as long to cook as the turkey would anyway.
Duck
Ducks are plentiful here in North America, so it would not be surprising to find wild duck side by side with turkey on a table in Plymouth. However, I am fairly certain the Pilgrims' simple ways precluded the turkey being stuffed inside the duck.
Roasting a duck is not much different than roasting a turkey, but The Hungry Mouse has a guide for the perfect roast duck. For those of you who care to try, here is a recipe for turducken.
Fish
Fish was a staple food for early settlers, so it should not be surprising that fish would be served even in late fall in the Plymouth colony.
This is a broad category, but almost any New England coastal seafood could be used here. The Atlantic Seafood Market pointed out that records included a description of Chief Massasoit carrying as many eels as he could handle from the ocean.
If eel isn't your idea of a Thanksgiving main dish, there is also lobster, clams, oysters, and shrimp that were certainly food for the Pilgrims in the 1600s.
Rabbit
If you are looking for a smaller main course for a more intimate gathering, a main dish with rabbit would also be suitable and keeping with 17th century colonial cookery.
Rabbit, like venison, is a very versatile red meat. Serve it as a traditional stew with potatoes, carrots and pumpkin, or roast several to garnish with cranberry sauce.
Game Birds
Turkey and duck were not the only birds the Pilgrims hunted in the fields and woods near the colony, they were just the biggest. Cornish hens, quail, pheasants, and other smaller game birds were also part of their diet.
The recipes available for various wild poultry vary based on the bird, so you will be certain to find something to your liking from the many game birds available at your local market.
What have you served for a non-turkey Thanksgiving at your home?