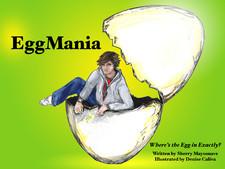 By Sherry Maysonave
Author of EggMania:
Where's the Egg in Exactly?
www.maniatales.com
Digital media for kids offers a unique platform for learning and long-term retention by activating multiple senses and cerebral pathways. Many digital products today, especially ebooks that blend entertainment with education, incorporate the three primary learning modalities simultaneously -- visual, audio and kinesthetic, which increases learning potential significantly. Learning occurs depending upon the level of a child's engagement, mentally and emotionally. So how can parents optimize their children's screen time?
Six tips for using interactive ebooks to engage your kids:
1) Visual Sense:
Choose illustrated ebooks that are visually-rich, those having artful (not merely stick figure kiddy art or cartoon types common to digital games) and colorful graphics to fully engage children visually and to stimulate their imaginations.
2) Audio Sense:
Select ebooks that have two modes of reading: a) Narration with Enhanced Sound -- music and sound effects; b) Read Myself. To optimize audio integration, allow children to enjoy and explore the narrated version with enhanced sound. Then, to practice oral reading skills, set up an audition for "the best narrator." Use an audio recorder or smart phone to tape children's versions. Allow them to create some fun sound effects and add music along with their narration. Parents may record for younger children who are not yet reading advanced vocabulary. Involve them in the nuances of your oral expression. Make it theirs by including their voice on the recording. Have them read, speak, or repeat after you, some of the words or short sentences.
3) Kinesthetic Sense:
Encourage tapping and touching of the screen to activate kinesthetic and interactive components. To maximize these features, have kids zoom in and out on art images, tap for duplication or animation of image, and tap words for definitions. iPad users can take screen shots of illustrations, then print them in black and white for kids to color, paint, trace, or copy.
4) Emotional Components:
A. Host a live chat to discuss stories and illustrations with children; ask what's their favorite illustration? And why? Their favorite words, etc. Avoid asking, "What did you learn?"
B. Support the hero in your child. Develop their subjective thinking skills by helping them analyze the subtler life lessons typically inherent in children's narratives. Kids do not always integrate what we think they will. Help them come to positive conclusions by asking them questions about the main character or characters, asking what they liked about them/him/her and didn't like about them. Ask how they would respond to the dilemma or conflict if they were that character.
5) Language Development:
Give kids a choice of two illustrations from an ebook or have them select two favorites. Then have them write a new story or poem based upon the illustrations and what the images inspire in their imagination. Older kids can be required to have a lexical humor slant to their story or poem, or to choose a genre such as comedy or drama.
6) Memory and Family Fun:
Further develop kids' memory and integration by extending the subject matter into family time by playing games, such as charades, using vocabulary-rich phrases from selected ebooks your children enjoy. A family/friends version of "Who's Smarter than a Fifth Grader" can be played using the Fun Facts that some ebooks provide.
EggMania: Where's the Egg in Exactly? by former educator Sherry Maysonave, is the story of a boy who keeps hearing mispronunciations of the word "exactly" as "eggzactly." In his quest to find the "egg," he meets unusual creatures who help him discover the importance of speaking correctly while underscoring a significant life lesson: even if he makes mistakes, he can still be extraordinary. Available on the iPad, it is highly interactive. For example, throughout the story, an egg hatches open with fun facts. It's a cute book to let your kids read this spring. Check out the book trailer at www.maniatales.com! EggMania is available for only $9.99 on the Apple iBookstore.