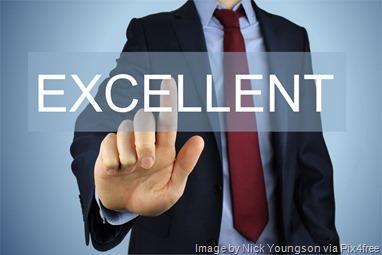 Customer service has traditionally been focused on the resolution of complaints, primarily after a transaction. With the advent of social media, and instant communication via the Internet, that definition has been expanded to include all aspects of the customer experience, from finding you and what they need, to the ease of completing the transaction, as well as all follow-on support.
In this context, even "satisfied" is only a "meets-minimum," and does not put you ahead of your competition. To stand out, you need to provide exceptional and memorable personalized service at all levels in order to get the advocacy and loyalty of your customers, and get the word-of-mouth recommendations that you need to grow the business. Even the best marketing doesn't do it.
As a business consultant, I'm often asked for some pragmatics on how to accomplish these objectives on a regular basis, without losing control or costing a fortune. My recommendations always include adopting a customer mindset, as well as the following steps:
Accept today's definition of relevant customer support. With pervasive access to social media, customers no longer differentiate poor product repair and replacement from a poor shopping experience or customer usage satisfaction. Your challenge is to excel in all elements of a customer interaction, from pre-sales to long-term advocacy and image.

This new definition applies equally to brick-and-mortar stores, as well as online platforms. In reality, many companies now offer a "clicks and bricks" business model, with shopping online, and then completing the purchase and support at a physical location.

Treat every customer exceptionally before they complain. Trying to resolve every problem, after it happens, is too little too late. You must know or react to the expectations of individual customers, and personalize their treatment to gain their remembrance of exceptional service. Great customer service now must be proactive, rather than reactive.

For example, the Ritz-Carlton Hotel Company has implemented a practice of authorizing employees, after relevant training, to spend up to $2,000 per guest, without pre-approval, to solve a special requirement for any guest that will make their visit totally memorable.

Make sure non-contact experiences match face-to-face. As customers do more searches, transactions, and support online, these elements can easily torpedo your exceptional personal interactions by appearing non-responsive or rote. An oversight or deficiency on any platform can easily cancel all other positives, and be hard to overcome.

Amazon is the benchmark for providing exceptional online experiences, by showing you options you like from past purchases, one keystroke ordering, and delivering the item to your door very quickly, potentially (in the future) even before you ordered it.

Prioritize value to the customer over and above cost to you. This means real customer value emphasis in all interactions and marketing, versus low price and price concessions. It also means proactively collecting and highlighting testimonials from other customers, and communicating these online and in face-to-face customer interactions.

Exceptionally satisfied customers that perceive a lot of value in your offering are usually willing to pay more, while unsatisfied customers will leave, even at a low price. You may find that "cost-plus" pricing results in giving away margin and losing incremental profits.

Incent a customer collaboration culture across your team. Real customer relationships are required to understand current expectations, keep ahead of change requirements, and nurture advocacy and word-of-mouth marketing. Reward team members who excel in these relationships, and provide training and processes for others.

Feedback from the field shows that a successful collaboration, whether with customers, employees, vendors, or other business partners, will make your company stronger and more competitive in the marketplace. This results in more profits and growth for you.

Drive down decision making on how to treat customers. You need real engagement and commitment to exceptional customer experiences from every member of your team. Inflexible processes. as well as centralized decision-making work against this goal. Start by hiring the right people, and providing the necessary training, coaching, and mentoring.

In all cases, employees can only make the right decisions if they know and share your vision, values, and priorities for the business. Thus effective communication is the key here, both from the top down as well as the bottom up. You can never edict all decisions.
Not so long ago, every business assumed that the keys to competitive differentiation were the highest quality product, the best value for the buck, and reasonable customer service as the last priority. Today, I'm convinced that the customer priorities are reversed, requiring a new focus on customer service, with the broader definition, to keep you in the lead for growth and success.