Have you ever heard of Genius Hour? It's an educational movement that allows students to explore their own passions and encourages creativity in the classroom. Basically, students have one hour to do their own research on a non-Googleable topic that interests them.
Last week, we had an opportunity to participate in a virtual Genius Hangout (GHO) with a spunky class of 5th graders from Fairmount Elementary School in Independence, Missouri—Go Bulldogs! Several of the students in the class expressed interest in running their own businesses and/or creating their own products, so their teacher, Ms. Burke, contacted us about hosting a GHO.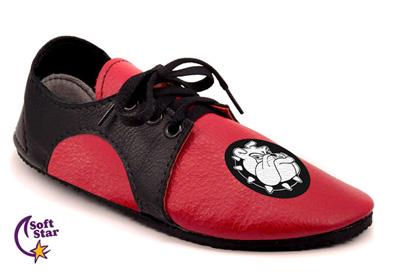 The students asked if we had ever made a Fairmount Elementary Bulldog shoe. We hadn't, but we made this mock-up to show what one might look like.
Ms. Burke was kind enough to record the video hangout for us, which we're now excited to share:

If this interests you, then we encourage you to check out the Genius Hour website, as well as the Twitter profile of Ms. Burke's class (@BrainyBulldogs). We've been following their feed for months and love seeing photos of their activities as well as reading the students' personal tweets about what they're working on in school. We also like to take a crack at the brain teasers they post from time to time. Take a look:
Tweets by @BrainyBulldogs

The students also periodically post entries and stories on the class online blog.

Related Posts:
Mindful Running Interview with Barefoot Guru Michael Sandler