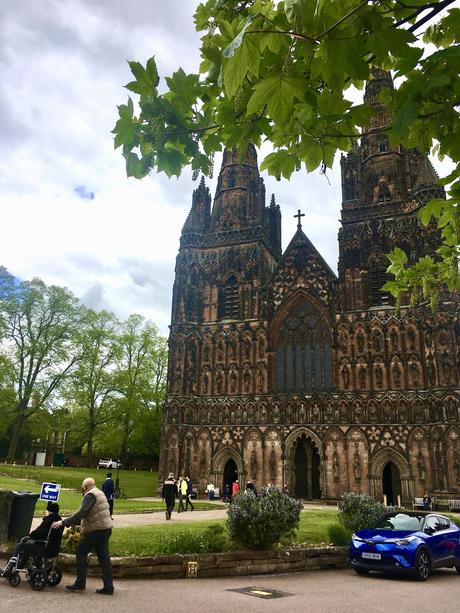 Welcome to Happy Friday Links whether you're a regular reader or new here. I love putting together links to interest and inspire you. I choose articles and videos about simplicity, minimalism, plant-based recipes, style on a budget, small space living and more.
This week has flown by and has been a bitty one with appointments and errands. I've had a long overdue dental check up and an eye test. My new glasses will be ready in 2 weeks and I'm very excited because for the first time I'll also have prescription sunglasses. The highlight of my week was a catch-up with a lovely friend I first met at
The Minimalists tour
 in 2014. A beautiful friendship and all because of minimalism and this blog.
The photo above was taken on Thursday morning when Tim had his second covid vaccine at Lichfield Cathedral. I'd bought a coffee which I'd planned to drink outside while I waited for Tim but I was invited into the cathedral by the welcoming volunteers (yes even with my coffee). I couldn't resist having a chance to see how it was organised and I was impressed by the friendliness and efficiency of 'Team Cathedral' (this name was printed on the back of the high vis jackets worn by the volunteers). Tim had his second dose of Pfizer and fortunately apart from arm ache has had no after effects. It was such a great venue for vaccinations. Surely those high ceilings must help with ventilation. Above all there was a palpable sense of peace, community and spirituality. Onto this week's links which I've enjoyed and I hope you do too.
This is The Classic Short Haircut Making a Big Comeback for Summer by Hannah Coates via Vogue. I love the photo of Lea Seydoux wearing a mask looking chic. How very 2021.