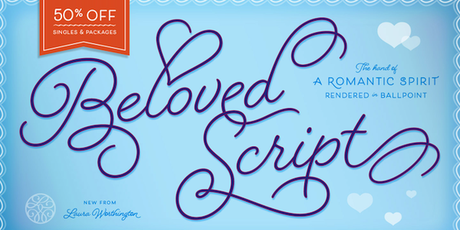 My friend and talented font designer, Laura Worthington,
has come up with yet another new font to add to your collection.
It's Beloved! It's currently #9 on the Hot New Fonts list!
And it's on sale for 50% off until September 26!
Take a look at all of the offerings.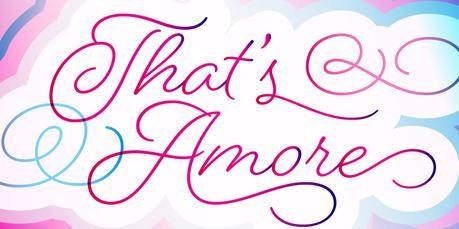 As befits its name, Beloved Script suggests the hand of a romantic spirit … albeit one written with a simple pen. Its monoline strokes evoke classic 20th-century penmanship achieved with a ballpoint or rounded nib.
Out of the box, Beloved Script is lively but casual.

But with over 1000 swashes and alternates to choose from, including capitals, beginning, and ending forms, it can become a beautifully decorative spectacle, powerful for custom headlines and wordmarks. Beloved Script is available in both regular and bold weights.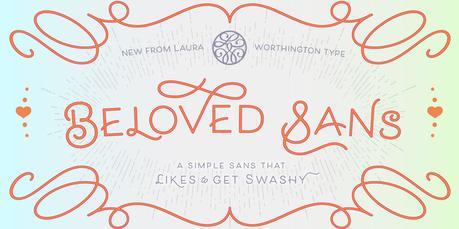 It's partner, Beloved Sans, is a monoline sans-serif  that subtly evokes early 20th-century hand lettering
made with a ballpoint pen or rounded nib.

It's an all-capitals face with corresponding small capitals scaled to about 85% of the original letters
— just enough differentiation to be distinctive in the display settings for which it's designed.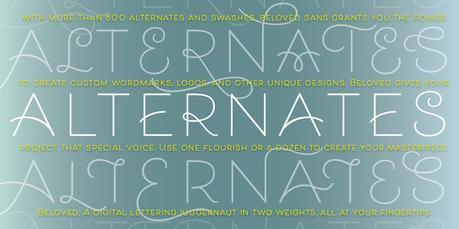 Beloved Sans includes over 800 swash and alternate forms, making it incredibly useful and versatile for wordmarks and distinctive headlines.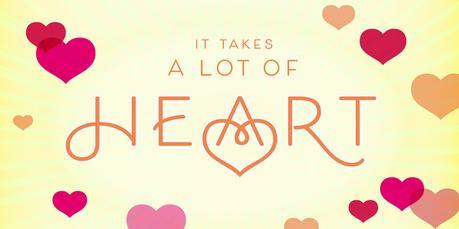 The titling variant adds an extra stroke to the verticals for a hint of Art Deco style, while the swashed capitals add calligraphic flair to an otherwise understated sans.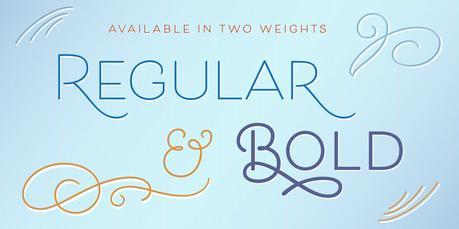 Beloved Sans includes regular and bold weights, and lining and old style numerals.
Mix and match characters for package designs, menus, and invitations.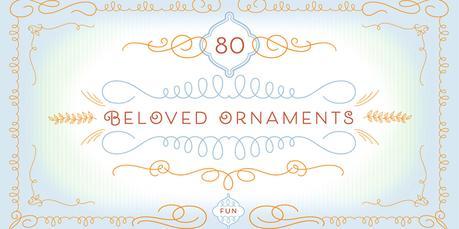 Beloved Ornaments feature 80 decorative elements designed to complement both Beloved Script and Sans.
Explore what Beloved can do for you!
Check them all out here and get 50% off until September 26.
Big Congrats to you Laura!  You continue to amaze!
In the meantime I am very close to releasing a new font myself!  It's been a long time coming.
But it will be ready in a few weeks.  So stay tuned.
Enjoy!
Debi
And as always I invite you to check out my hand lettered fonts below!
Check out my newest shop at www.debisementelli.com.
Or click on the graphics below to go directly to that font.
Cantoni was selected as one of MyFonts Most Popular Fonts of 2013!
Her sister Belluccia was selected for the same list in 2011!
Dom Loves Mary made it to #4 on Hot New Fonts, was on the Best Sellers list and a Rising Stars winner  in November 2012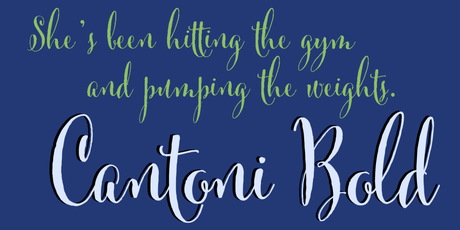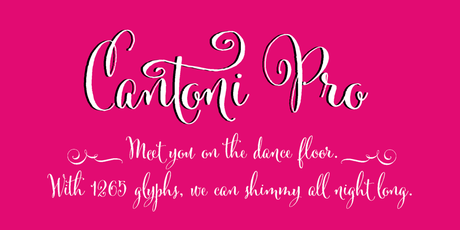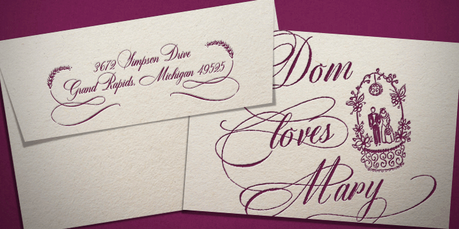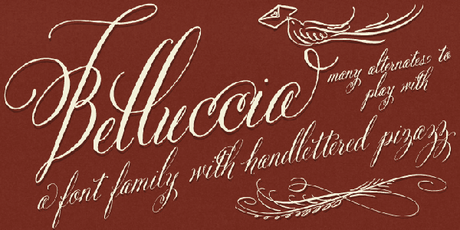 And the new Belluccia Bold released in January 2014 was a Hot New Fonts lister!