The emergence of a digital economy has transformed every aspect of life as we know it. Business. Politics. Education. Social interaction. One area that's profoundly affected by the digital revolution? Retail.
In addition to keeping shelves stocked, inventory flowing and customer satisfaction high, retail supply chain managers are sourcing products from a mix of vendors around the world for sale across multiple channels – bricks-and-mortar, flash sales, catalogs, e-commerce, broadcast retail and pop-up stores.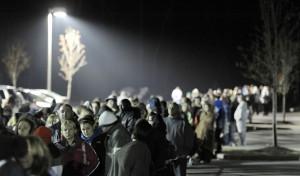 If you're in retail supply chain management, these aren't your only challenges. You're probably also looking for ways to manage the total cost of global procurement, streamline inventories and cut transportation costs – without impacting the customer experience. So how do you keep up with rapid shifts in demand? How do you deal with unexpected disruptions? Store openings and closings? New channels and changing customer expectations? Consider these five ways to give your supply chain an edge.
Deliver satisfaction across every channel

When it comes to today's retail channels, as Dorothy would say, "We're not in Kansas anymore." In fact, the entire retail landscape has changed. It's an omni-channel world. Instead of one or two channels, you're probably fulfilling orders across several. And meeting customers' needs across any channel they want calls for three key actions.
Adopt an omni-channel fulfillment strategy with plenty of visibility to orders, inventory, inventory in transit, risks, and demand.
Implement advanced technology tools to manage the complexity, including software, warehouse automation and visibility tools.
Set up systems to respond to e-commerce tax requirements as legislation requiring online retailers to collect taxes works its way through Congress.
Execute with excellence
The growing driver and capacity shortages are vexing challenges for anyone managing a transportation and distribution network. However, for retailers, there's one thing that's never in short supply: supply chain challenges. And the top three include:
Aligning the supply chain with your particular retail strategy
Balancing supply with demand
Gaining control of your supply chain
For example, imagine your retail strategy focuses on delivering an outstanding customer experience. You'll want to place distribution centers in the right locations and employ optimal transportation modes. As for syncing supply with demand, the focus is on aligning your supply chain with actual consumption rather than forecasted demand. This requires some serious chops in terms of visibility, infrastructure, coordination and optimization. As for improving control, that too requires visibility – and integrating your supply chain from end to end.
Engage and empower employees
People involvement is a key tenet of any Lean operation – empowering employees to improve continuously, identify root causes of problems and proactively mistake-proof processes. When employees "feel heard", they're more likely to work as a team, work more productively and take better care of customers.
Up the IQ of your integrated supply chain
Two key ways retailers can drive a smarter supply chain? Improve supply chain visibility and optimize your transportation networks. With end-to-end visibility, retail supply chain managers know what goods are in the supply chain, what's on shelves, what's on its way to stores, what's in the warehouse and what's in transit. The result: a streamlined supply chain and better decision-making.
Supply chain managers should also look for ways to optimize their transportation networks. This might mean adding natural gas vehicles to address rising fuel prices or engaging a dedicated fleet to side-step the looming driver shortage/capacity crunch.
Go Lean
We talked about the benefits of people involvement within the Lean framework. However, when it comes to doing more with less in a warehouse environment, there are other aspects to a Lean operation. These include optimizing quality, standardizing work processes, shortening lead times and driving continuous improvement. Together with people involvement, these lean practices can completely transform your distribution management operation.
These are just a few ways you can optimize your supply chain to achieve the speed, velocity and flexibility you need. Is your distribution management operation as smart, Lean, and integrated as it could be? Learn more by reading the "Chain Store Age Digital Supplement: Supply Chain Optimization" here.