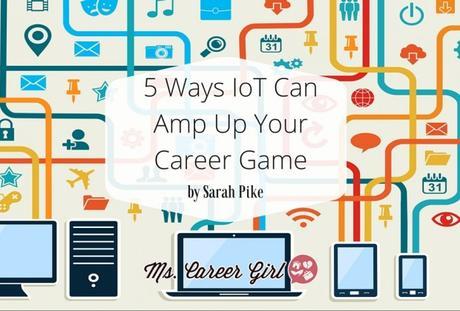 Millennials grew up navigating computers, and many can't remember a time before cellphones were ubiquitous. Today, millennials are the early adopters of the Internet of Things (IoT), the ever-growing network of Web-connected devices that make our lives easier by allowing the products we use to store data, learn patterns, automate tasks, and communicate with each other and with us. By leveraging this technology, you can gain a huge advantage in the workplace.
1. Analyze data and offer metrics to wow your boss.
The IoT gives us access to more data than ever before. Whether you're in IT, sales and marketing, or operations, look for software or apps that allow you to harness the IoT to gather significant data, spot trends, and offer actionable insights that can help reduce company costs or increase profits.
2. Plan meetings like a pro.
Never waste time wandering around looking for an available conference room. Robin, a software layer that connects to your smartphone, lets you know which rooms are occupied and which are free. Once you find and claim a meeting location, the system allows you to adjust lighting, shades, and thermostat settings for maximum comfort and productivity, all through your iPad. Your iPad also becomes command central so you can operate projectors, sources, and more.
3. Make your cubicle cozier.
The Internet of Things can help you find your inner Zen at work, which can make you a better employee. Add a desk lamp that uses a smart lightbulb to change colors depending on your mood or the time of day. Keeping a plant at your desk can reduce stress and increase productivity, but keeping the plant alive can be tricky for those of us born without a green thumb. The Parrot Flower Power Bluetooth smart plant sensor texts you when the plant needs water, fertilizer, or sunlight so you don't have to worry.
4. Stay healthier for improved productivity.
Activity-tracking devices like the FitBit encourage you to take short, active breaks throughout the day - which can increase productivity. Wear yours to work and set it to remind you to get up and move every 20 minutes or so. With your activity tracker on your wrist, you'll have added incentive to take the stairs instead of the elevator or walk across the room to your co-worker's cubicle instead of sending an email. Additionally, employees who exercise more are 15 percent more likely to have higher job performance and take 27 percent fewer sick days. Your employer would be hard-pressed to find a better ROI.
5. Achieve a smarter work/life balance.
With a video doorbell, you can see who's at your house even if you're at the office. Open the door remotely using the app for your smart lock, giving access to contractors, neighbors, or delivery people. And if you work late hours and are tired of grabbing fast food on the way home, set your IoT-connected CrockPot up with your favorite recipe in the morning. If you find yourself stuck in a meeting and at risk of burning dinner, just use the smartphone app to set the CrockPot from "medium" to "keep warm."
Small conveniences like this, provided by IoT, allow you to relax and focus on your work - and then go home to enjoy your evening - so you can rock your career and maintain your sanity at the same time.