It's almost here! Valentine's Day is quickly approaching and whether you love the holiday of love or dread it's arrival, you probably have someone in your life who deserves a little something special. It's not my favorite day but who doesn't love having something to open? So, I put together 5 Valentine's Day gift ideas for you to bring home to anyone on your list!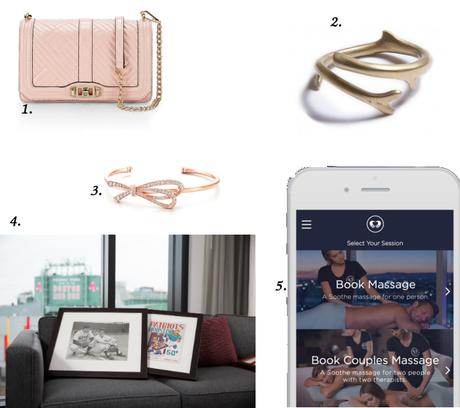 1. Love Crossbody by Rebecca Minkoff// 2. The Reef Solid Brass Ring by SailorMade// 3. Tiffany Bow Cuff in 18k Rose Gold with Diamonds// 4. Fenway Park Suite at The Hotel Commonwealth// 5. Soothe Massage  (Use Code BWMZD and get $30 credit toward your massage!)
For Your BFF:  Rebecca Minkoff's LOVE crossbody is a classic style in a romantic color. Perfect to brighten her day!
For The Shop Local Lover: New York's SailorMade recently moved its headquarters to Boston's bustling South End, so if someone on your list loves to shop local, SailorMade's unique and ocean-inspired pieces are perfect. I love their brass reef ring!
For Him: Treat your sweetie to in-home massage with the Soothe app. I've used the app twice to order up a relaxing hour and was blown away by how easy the process was! You can even book a couple's massage with just an hour of notice. Download the app and use code BWMZD to get a $30 credit towards your service!
For You: Drop some hints to your sweetie (or treat yourself) with a trip to Tiffany for their rose gold bow cuff.
For The Sports Fan: Treat them to a fan's dream, with a night in the Hotel Commonwealth's brand new Fenway Park Suite. Overlooking the park, with amazing Red Sox memorabilia and a fully equipped wet bar, it's the perfect setting for a luxe getaway.