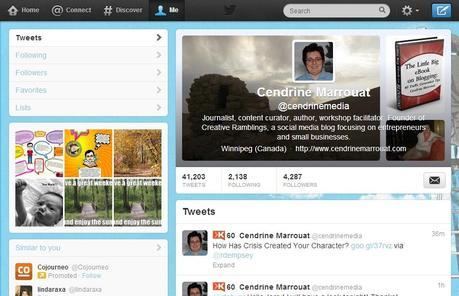 Tip#1: Understand the differences between Twitter and Facebook
Tip#2: Make the most of your profile
Tip#3: Make it about others
Tip#4: Use Twitter for customer support
Tip#5: Use hashtags
After writing my article on LinkedIn ("5 tips to become a LinkedIn power user"), I remembered a conversation about Twitter I had had with participants in one of my workshops.
I realize that despite being around for years, the social network remains a mystery to many people.
So, here is an article to help you master the basics and use Twitter like a pro.
Tip#1: Understand the differences between Twitter and Facebook
Twitter and Facebook are often used in the same sentence. But, they are two different platforms:
On Twitter, the following process is topic-based and is done without a user's approval or the need for reciprocation. On Facebook, it is all about friends/family and social interest.
Tweets (Twitter messages) are limited to 140 characters, while Facebook allows 63,206 characters per update.
Tweets have a shorter lifespan than Facebook updates.
Facebook users want to read, discuss and share content that pertains to their direct line of interest. Tweeps, on the contrary, are more into global trends and short conversations.
There is no Edgerank on Twitter. You see Tweets at the exact time when they are posted.
Tip#2: Make the most of your profile
A couple of weeks ago, Twitter introduced new profiles. Those are now more brand-focused, with a banner header which gives users quite a lot of room to promote themselves.
Fill in your bio with concise and unique content. Include your slogan if you have one.
Upload a nice picture of you.
Be creative with your banner header (1200×600 pixels). Remember that visual content is worth a thousand words.
Also, make sure you follow less people than you have followers. You do not want people to think you are a bot.
Tip#3: Make it about others
2 a.m. on March 11, 2011. I was checking my Twitter stream, when I suddenly caught the first Tweet about the earthquake and tsunami in Japan. Within minutes, my entire news streams was exploding with information, pictures, videos, donation links, and emotional conversations between people who had never talked to one anotherbefore.
I stayed up all night to witness this incredible wave of generosity. I will never forget it.
What I have just described is one example of what happens daily on Twitter.
Twitter is where caring people hang out. Try to keep that in mind when you use it.
Recommend your favorite Tweeps with Follow Friday Helper. This service shows you a filtered list of Tweeps you interact with. You can also write short testimonials
Be helpful. Do your followers have questions in a field where you could of assistance? Answer them. Do you know someone who could benefit from your content? Mention them in a Tweet with a relevant link.
Keep it 80 / 20 – Dedicate 80-90% of your time sharing relevant and compelling content and engaging followers. You can use the remaining time for self-promotion.
Also, remain professional at all time. Do not:
Share the same links over and over
Use several exclamation or question marks at the end of your sentences
Write in ALL CAPS
Share every existential problem you have
Send generic auto DMs
Disrespect people's opinions
Argue violently with belligerent users. Settle things peacefully and/or privately and know when not to respond.
Tip#4: Use Twitter for customer support
A lot of businesses use Twitter for customer service, because the platform makes it easy for their teams to access mentions and Direct Messages. Dell, for example, is one of the best examples.
With that said, when you are a small business and have to take care of your entire social media strategy, keeping an eye on specific keywords or what people say about you can be challenging and time-consuming. Twitter clients like TweetDeck or HootSuite are the perfect tools in this case. Some of their benefits include:
Easy organization of streams, lists and searches.
Option to connect and monitor several Twitter accounts within the same dashboard.
Notifications of replies and DMs.
Built-in URL shorteners.
Tip#5: Use hashtags
One of the best ways to make you and your content easier to find on Twitter is to highlight relevant keywords in your tweets. This process is called a hashtag.
According to Whatis.com, "A hashtag is a tag used to categorize posts on Twitter (tweets) according to topics. To add a hashtag to a tweet, you just preface the relevant term with the hash symbol (#)."
One of the oldest and most famous hashtags is #followfriday (or #ff), which allows participants to recommend the tweeps they consider inspirational or influential.
Writers interested in connecting and networking with one another will include #amwriting, #litchat or #writer in their tweets. They use a service like TweetChat to keep an eye on who adds to the conversation.
Looking for a great place to find all the popular hashtags at once? Use Hashtags.org.
Now, it is your turn to speak. What are your tips to use Twitter like a pro?