Hello my sweet friends :) I hope that you dominated Monday and that you're ready to take on the rest of the week. I have my first of three finals today...eeek! I can't believe my first semester of speech classes is coming to a close. It feels like I just started this journey of becoming a speech-language pathologist and it's already flying by.
I've been making it a point to keep my nerves calm and my stress levels at a minimum during finals season. It's easy to feel bogged down and overwhelmed with our ever-growing to-dos but it's SO important for our mental health to take some time EVERY single day to do things that bring us a sense of peace, joy + restoration.
That being said, I wanted to share 5 things that I've been doing to improve my mood the last few weeks. They are quick, little things but they truly make all the difference!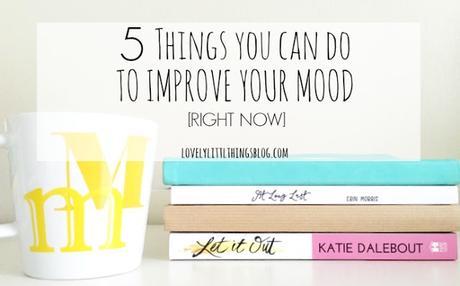 1. Step outside.
I don't know about you, but in my case, there is nothing that beats a nice, deep breath of fresh air. Sometimes you don't realize how trapped you start to feel being confined within four walls. Taking a short walk or even just stepping out onto the porch and letting the fresh air brush your cheeks for a moment is a quick way to release some tension and up your happiness level.
2. Read for 5 minutes.
I suggest a book, newspaper, or blog post...something that inspires you. Try to steer clear of Twitter or Facebook - instead choose something that is going to feed your soul positivity. If you want bonus points, combine #1 and #2 and read for 5 minutes outside!
3. Enjoy a beverage.
Now obviously I'm talking coffee, tea, or lemon water ;) I'm not suggesting that you stop in the middle of your work day to pop bottles, haha! But seriously, sometimes if I've been sitting at my computer for too long and I start to feel a little crazy, brewing a nice, hot cup of coffee instantly boosts my mood.
4. Turn on your favorite playlist.
There are certain tasks that I have to do in complete silence, but for the most part, when I'm working and studying, I feel more at ease when I have some music softly playing in the background. I like to go to Spotify and look up instrumental playlists so that I'm not distracted by words. Some of my favorites playlists are Productive Morning, Rain Sounds, Instrumental Study, and Your Favorite Coffeehouse (just search for them on Spotify).
5. Light a candle.
This one probably takes the least amount of time, but I feel like it makes a big difference. I'm a total ambiance nerd and I think that the vibe of a room can truly impact your productivity. Burn your favorite scent and let the aromas do their thang. My favorite candle right now is called Bella Sweet Sangria from Target. It's a soothing, sweet smell that helps keep me focused and energized.
What are some things that you do to improve your mood? Do tell!xo, Jess
lovelylittlethingsblog.com