1. Don't force fit someone into your life because you are experiencing online dating fatigue. The process of several serial dates with people that you lack chemistry with or experience rejection from people that you think are potential candidates can be very frustrating and result in online dating fatigue. Where you just want to quit for awhile till you regroup. It's totally understandable. Take a break, if you feel you need it. But, don't let the fatigue inform who you choose.
2. Meet in real life. The point of online dating is to date, not to have a epenpal. If you haven't gone on a date after a lengthy back and forth, cut it off. Two things are happening to you while you epenpal: 1) you are creating a false reality about who is behind the device and 2) you are delaying your own happiness by dealing with someone that isn't on the same page.
3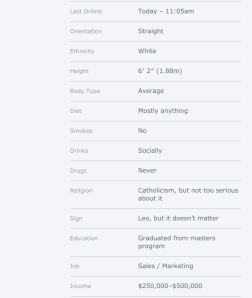 . Diversify your dating approach. Don't just rely on online dating as the only method of meeting someone. That will create online dating fatigue quickly. Include in your strategy both online and offline because love is a complicated process and has no formula. We can't create the when and where. We just have to be there.
4. Approach online dating like it's a social experiment. It really IS. Treat dating like you are collecting data on what you want and don't want. See what combinations of qualities and characteristics better complement you. Approaching dating as though it is testing out our happiness hypothesis or algorithm can help minimize some of our own expectations. Create an equation (just like the dating sites) that includes the elements that you absolutely require (fixed variable) and the elements that you think you want (random variable). Focus just on characteristics, qualities and life desires.
5. This is the grand daddy of them all! Ready? Men, listen to me: don't lie about your height. Women hate when you lie about inches :) The reality is that men over 6'0″ in US society is about 15%. Seems like 100% online :)