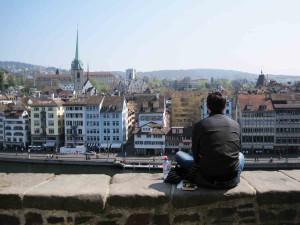 Have you ever returned from a vacation feeling more tired than you were when you left? Tourist burnout has paved the way for slow travel, a movement that puts travelers' focus more on taking in their surroundings at a relaxed pace rather than manic sightseeing. Instead of piling onto a bus and attempting to see four European cities in seven days, you get to see new places and experience new cultures in a much less stressful way that is easier on the environment and more respectful to locals.
Here are five things you need to know about the slow travel movement.
Slow travel isn't about the destination, it's about the journey
Slow and steady wins the race. Instead of hopping on a flight to get from point A to point B as quickly as possible, slow travel involves traveling by trains, cars, boats, bikes and any type of transportation that gets you to your destination without flying, allowing slow travelers to get the most out of their journey experience.
Rather than sitting in an airport and then getting a view of the clouds for a few hours, slow travelers get to see all of the places in between the starting point and the destination. Sometimes, the journey actually becomes the vacation – slow travelers will often stop in some of the places they're passing through, seeing more sites and experiencing more people, cultures and food.
The movement stemmed from food
The slow travel movement was inspired by the slow food movement, which focuses on preserving regional cuisine, local farming, communal meals and traditional methods of preparing food. The slow food movement began in Italy in the 1980s in protest of a McDonald's opening in Rome, and grew into the broader slow movement – a way of life focused on connections to family, food, and, in regards to travel, connections to people and cultures.
Slow travel is good for you
Getting to the airport on time, running to connecting flights, and cramming in as many activities and sights as possible is usually how American's spend their vacations. Part of that is due to being limited by the amount of paid time off employers offer and part of it is just natural – many people lead hectic, busy and stressful lives, which is a hard habit to break when you finally get the chance to breathe and relax. It's easy and natural to leave for vacation and feel as though you have to rush from one attraction to another. But slow travel gives you the opportunity to break that habit and rid yourself of the burden of a check list. You can do and see things slowly, you can do whatever you want, whenever you want, allowing you to really enjoy freedom and travel.
It's good for the environment, too
Slow travel is typically easier on the environment than more mainstream types of travel. Studies have deemed airplanes as major contributors to global warming. With slow travel, you swap air travel for eco-friendly alternatives like trains, bikes and, simply, walking. And, if you're only traveling a short distance to your next stop on your journey, a car is less damaging than as airplane.
Slow travel also often involves shopping and eating local as a way to become even more immersed in the culture and way of life. Shopping and dining local means that your souvenirs and meals won't have traveled from far away to get to you, lessening the impact on the environment.
You live like a local
The philosophy fueling slow travel is that it's more important to experience and get to know one small area well than to see only a little of many different places. In order to accomplish this, slow travelers typically rent a house or apartment, turning to services such as Airbnb and others that give them the chance to make themselves at home while abroad. Staying in the same area for a longer period of time, you get to learn the places the locals go, whether it's restaurants, markets, bars or places to shop. You're surrounded by locals, doing as the locals do, getting a more authentic experience of your destination, gaining a better understanding of the local language, going deeper into the cuisine, and making better and more meaningful connections with the people around you.
Photo courtesy of The Art of Slow Travel.