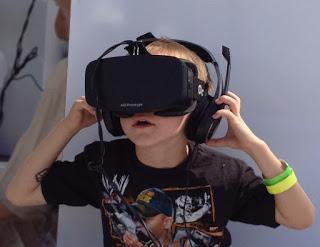 Boy wearing Oculus Rift via Wikipedia
$30 billion
A Crowdfunder's Strategy Guide
Community building has to happen before collecting cash. He points out that the word crowd precedes funding in crowdfunding. Entrepreneurs who don't focus on what people really want and need to know, before trying to collect money, are unlikely to be successful. Startups need to build a large passionate group of fans before the campaign.

It's not easy money, so expect to work harder than you ever have. Don't expect to run a crowdfunding campaign in your free time. Stegmaier recommends that you start by writing a regular blog, joining a few related campaigns, building a high-quality video, and completing up to a hundred additional lessons before you even launch your own project.

You need a polished, tested concept, not just an idea. If you want money, rather than just feedback, you need to actually design, develop, and prove that you have something worth people's hard-earned funds before you launch your campaign. Crowdfunding to gauge demand is not recommended, since failed campaigns don't usually recover later.

Making something awesome will cost more than you expect. Don't assume that any money collected from a winning campaign will go into your pocket. It usually takes more than you can collect just to build and deliver the product. Startup revenues come later. Of course, if the campaign does not meet or exceed the funding objective, you get nothing.

Crowdfunding is just the beginning of your business launch. Crowdfunding success does not mean business success. Many successful crowdfunding campaigns, just like many startups funded by angels and VCs, fail miserably due to normal business challenges, including inventory buildup, marketing, competition, and customer support.
Kickstarter
democratized
Pebble Watch
Oculus Rift