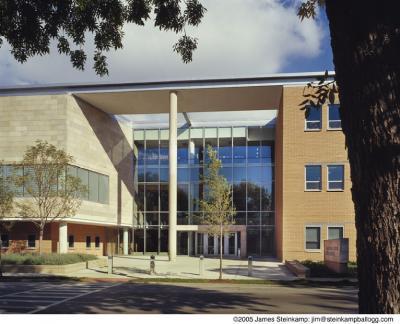 The green movement is well underway and it's not surprising that many schools in America are now embracing sustainable design and strategies to create healthy learning environments for our children. Sustainable building practices address improved indoor air quality, energy efficiency, and the use of natural materials and resources. But more than being aesthetically pleasing and environmentally friendly places, green schools instill a sense of wonder in students, as well as responsibility for the natural environment.
Here are 5 sustainable schools setting the "green standard":
Green School

The Green School is a K-5 elementary school founded by a group of Baltimore City public school teachers committed to providing a quality education and a nurturing environment for the children of Baltimore. Its goals are to improve student achievement and increase stewardship for the environment through experiential environmental education.The school's curriculum integrates project-based learning with balanced literacy by following an educational approach called "using the Environment as an Integrating Context (EIC) for learning." EIC uses the school's surroundings and community as the context for reading, writing, math, science, and social studies. This approach integrates learning from textbooks, problem-solving opportunities, and hands-on experiences.Students are involved in projects that incorporate Maryland State standards and require them to apply skills learned in all subject areas. Projects include planting pollinator gardens, raising diamondback terrapins, growing bay grasses, planning and growing an edible organic garden, developing a recycling program, and creating a tree nursery. For example, as 1st graders raise diamondback terrapins, they take weekly measurements of the terrapins; read books and maps about the Chesapeake Bay; and publish a teaching book about terrapins (the state reptile of Maryland).
 
Tarkington Elementary School

Tarkington Elementary Schoolis the first school in Chicago to be certified a green school by the Leadership in Energy and Environmental Design (LEED) Green Building Rating system. Fifty percent of the building's electricity is provided by renewable sources. The school features roofing that reflects solar energy away to cool the building in hot weather, and a plumbing system that uses 30 percent less water than the baseline calculated for the building.Additionally, the school features roof and site storm water run-off that feeds into an adjacent lagoon, reducing the load on municipal sewers, as well as vegetative roof surfaces which capture rain water and return a portion back to the atmosphere, thus lowering the roof temperature and conserving energy.  Classrooms contain extra-large windows that allow more natural light. Sensors incorporated into the lighting system automatically adjust to the amount of sunlight entering the room, thus maximizing the use of "natural" energy. Also, Tarkington's indoor air quality adheres to a higher standard because of the building's low-toxic paint, glues, and caulking.Curriculum is also a key in Tarkington's green efforts. For all grade levels, the school designs a green curriculum which raises students' awareness through physical engagement.
Goodwillie Environmental School

The mission of Goodwillie Environmental School (GES) in Ada Township, Michigan is to offer unique opportunities for students to use the outdoors as a "living classroom" and provide many experiences, which facilitate an understanding and love of nature. The school uses a natural setting to generate a stimulating learning environment that will allow students to acquaint themselves with and feel connected to the natural world. It integrates the Forest Hills 5th and 6th grade curriculum with an environmental theme and nurtures responsibility and independence through project based learning.GES was designed as a green building and has registered for LEED certification. Among the sustainable features of the school are its high-efficiency windows that provide excellent thermal performance against the winter cold, and its deck which is a composite wood made from recycled milk jugs and sawdust. Also, the metal siding and roof materials of the school contain at least 1/3 recycled material.All paint used has a low Volatile Organic Compounds (VOC) level, which eliminates the odor typically found in conventional paints. The carpet and tile in the classrooms are made from recycled plastic bottles, with 30 percent recycled backing. Tack boards in the corridors are made of 100 percent recycled paper products. Light fixtures throughout the building utilize high-efficiency, color-corrected fluorescent lamps.
Third Creek Elementary School

Third Creek Elementary in Statesville, North Carolina is one of the first elementary schools in the nation to be certified as a LEED Gold building. The architectural and mechanical design of this school, according to advanced energy modeling, was shown to reduce annual energy costs by an additional 25 percent. All building and site lighting include multiple levels of control and all classroom lights work on occupancy sensors in order to save energy in unoccupied rooms.Every classroom has operable windows, and the entire building is equipped with a permanent temperature, humidity, and carbon dioxide monitoring system to ensure optimal indoor conditions at all times. These strategies were implemented in order to promote a healthy and productive learning environment for students and teachers alike."Waterless" urinals, low flow automatic spigots, and other innovations are employed to reduce water and energy consumption by at least 20 percent. Wall paint with lower gas toxicity, and therefore less odor, have been used. Designed for occupant recycling, the building itself also includes dedicated space to implement a recycling program. In addition to minimizing the impact of the school on natural resources, Third Creek is complementing its standard curriculum with projects that teach children to be caretakers of our environment.
Lick-Wilmerding High School

Students at the 110-year-old Lick-Wilmerding High School in San Francisco receive a very practical education. Combining shop classes (remember wood and metal working?) and traditional classroom learning, students learn how to reuse materials (thus lessening their environmental impact) and learn how to be resourceful and efficient – two very useful skills!Green features of this school include a living green roof in addition to solar panels on a separate building. Besides providing power, the solar panels act as insulators, which increases energy efficiency. Windmills provide power as well, maximizing natural energy. Adding beauty to this environmentally friendly school are the large interior walkways that are walled by floor-to-ceiling  windows, and the many outdoor walkways covered in grass in lieu of cement.
The number of schools making environmental improvements across the country is growing. When choosing a school for your children, go beyond the ABCs and consider the benefits of sending them to a sustainable school.
[Image Source]