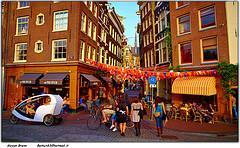 Amsterdam (Photo credit: Moyan_Brenn)
Amsterdam is one of Europe's most popular city break destinations. Every summer thousands flock to the Dutch capital to experience its uniquely charming atmosphere. If you're looking at booking a few days away here's 5 very good reasons to visit Amsterdam.
Bars and Cafes
A major draw to Amsterdam is the wonderfully diverse bar scene. There are the cosy traditional 'brown cafes' such as In't Aepien so-called due to their dark wooden interiors where locals meet up and chat over a few drinks. For grandeur there are the spacious and stylish grand cafes such as Cafe Americain in the Eden Amsterdam American Hotel. The high-end cocktail bars such as Bar Dvars with its extensive cocktail menu or the terrace canal views from Cafe van Zuvlen.
Save money for beers and look into booking one of the cheap summer offers at places like Co-op Travel.
Van Gogh Museum
Vincent Van Gogh's most famous paintings are housed in Amsterdam. You can see first-hand 700 of his most famous works including the legendary 'Sunflowers'. Being one of the biggest tourist attractions in Amsterdam it's advised you go early in the morning to avoid the crowds.
Rent a bike
Cycling is as synonymous with Amsterdam as tulips and clogs. You can zip around with ease by hopping on a bike and heading off on the vast expanse of bike lanes that connect the city. There are plenty of rental places dotted around to hire your wheels. Remember to always pay attention, with bikes, cars and trams it can get busy.
Anne Frank Museum
Hidden behind a bookcase in a canal-side house is the annexe that hid Anne Frank from the Nazis during the Second World War. It is a highly popular destination for tourists who flock to see this sobering exhibition. To avoid the guaranteed queues it's best to arrive early or visit after 7pm.
Red Light District
Arguably one of the most famous areas in Amsterdam is its Red Light District. The oldest part of the city really isn't as seedy as you would expect. It is the base for the local licensed sex trade but many visitors to the city curiously wander the cobbled streets as innocently as with any other district.
Take a break
Amsterdam really is one of those places that can genuinely cater for everyone. You can be as busy or as laid back as you fancy. Fill your days exploring the rich cultural heritage or lounge in the sun with a beer. Take things at your own pace this summer with a visit to the Dutch capital.
© 2013, Amsterdam City Tours Blog. All rights reserved. On republishing any part of this post, you must provide a link back to this original post