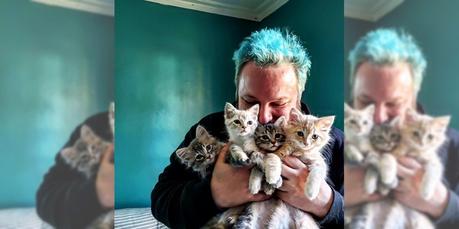 Next up in our Pouzza Fest: 5 Quick Questions series is Walt Hamburger.
Walt Hamburger is a Wisconsin-based artist who, over the past 25+ years, has played with The Hamburgers (My Brother Stole My Records), Honor Amongst Thieves (My Brother Stole My Records), Obvious Man Hands (My Brother Stole My Records) and so many more bands.
He's also the first artist to ever have been invited back to release a second album on One Week Records. He's that good!
If you're hitting up Pouzza Fest 2019, we recommend that you put Walt Hamburger on your must-see list.
Thanks to Walt Hamburger for taking the time to answer our questions.
Let's get to the Q&A!
Q1) If you're in the car on a long drive between shows, what is the one album you can listen to on repeat?
Walt) Death by Television by The Lillingtons.
Q2) Do you have any pre-show rituals?
Walt) Usually have a couple drinks, maybe a cough drop. Sometimes I think about the food I ate before, and get excited about future food.
Q3) What can fans expect from a live performance?
Walt) I have blue hair. I sweat a lot. Stuff like that, mostly. Sexy stuff.
Q4) Is there a band or artist you think people should be paying more attention to?
Walt) Mercy Music out of Las Vegas, Useless ID, Yotam Ben Horin, really anyone on One Week Records, Bad Cop/Bad Cop, and KJ Jansen obviously.
Q5) What's your favourite thing about Pouzza Fest?
Walt) These fests are often touring bands only chance to hang with other touring bands. I spend a lot of time on the road and these festivals bring us all together. Also, duh, the vegetarian poutine! Also Canada is the best. Can I have 3 favorite things?