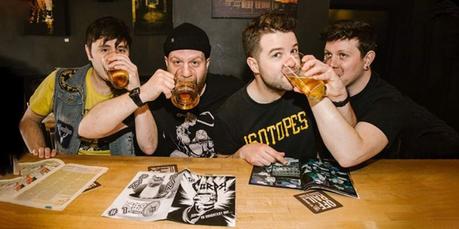 Our Pouzza Fest 5 Quick Questions series continues with The Corps.
The Corps are Dan Garrison on lead vocals and guitar, Dan Stenning on vocals and drums, Andrew Pederson on vocals and guitar, and Ronnie Ellis on vocals and bass. They're a four-piece punk rock band out of Vancouver, BC. If you're a fan of Pkew Pkew Pkew, PUP, or The Dirty Nil, this could be your next favourite band.
The band delivers superb musicianship, delicious harmonies, and fun lyrics.
A thing you might not know about The Corps, 3/4 of them play in the legendary Celtic punk band, The Real McKenzies.
The Corps will be playing Pouzza Fest on Saturday, May 18th at Turbo Haüs and they're scheduled to go on at 11:00 PM. Maybe we'll see you there?
The Corps' links are at the very bottom of the post.
Q1) If you're in the car on a long drive between shows, what is the one album you can listen to on repeat?
The Corps) Me First and The Gimmie Gimmies love their country, specifically, On the Road Again........and anything by Jann Arden
Q2) Do you have any pre-show rituals?
The Corps) We watch The Notebook. They're just so right for each other, you know?
Q3) What can fans expect from a live performance?
The Corps) This year, every song we do, we do it live. Audiences love it.
Q4) Is there a band or artist you think people should be paying more attention to?
The Corps) BOIDS, Fire Next Time, us.
Q5) What's your favourite thing about Pouzza Fest?
The Corps) The poutine...no wait the pizza, no no oh why can't there be some way to combine them!?