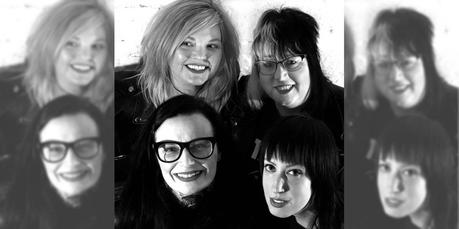 Our next 5 Quick Questions Pouzza Fest Edition band is with Ramoms.
If I made you guess what kind of music Ramoms played, I think you'd probably get the answer right.
Ramoms are an all female, all mom Ramones cover band out of Philly. The band is Jodi Ramom on vocals, Sharon Ramom on guitar, Molly Ramom on bass, and Ginger Ramom on drums. A band that started out as kind of a lark has turned into something so much more. They've got a new EP out, Problem Child, and they can't wait to play for you.
They'll be hitting the stage at Café Cléopâtre Saturday at midnight.
Thanks to Molly answering our 5 Quick Questions, Pouzza Fest Edition.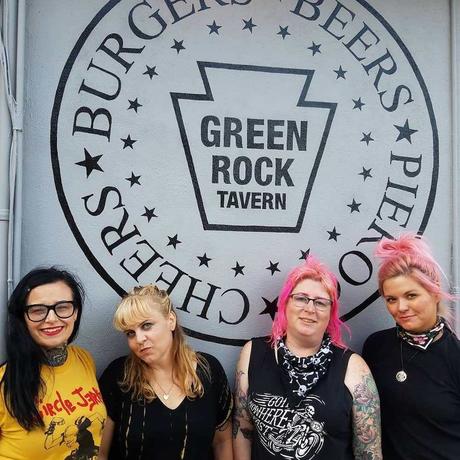 Let's get to the Q&A!
Q1) If you're in the car on a long drive between shows, what is the one album you can listen to on repeat?
Molly) Our tastes are all pretty varied and we had a tough time even personally coming up with one album, but we all solidly can say the Ramones are never a bad choice! We also love the Replacements, Bad Cop/Bad Cop, the Cure, and the Briefs.
Q2) Do you have any pre-show rituals?
Molly) Sharon totally takes the lead on this! We do a big group hug, she invokes some witchy stuff praying to the souls of the Ramones for a good performance, and you can usually find a few crystals for positive energy on stage if you look close enough. There's also a good deal of tequila and applying our lipstick perfectly.
Q3) What can fans expect from a live performance?
Molly) Dancing, singing along, maybe a dirty joke or two, and some fun twists on the lyrics. All in all, if you love the Ramones and you like to let loose, we can guarantee you a good time.
Q4) Is there a band or artist you think people should be paying more attention to?
Molly) There's so many amazing bands out there killing it these days, so it's really hard to pick just a few! We'd be remiss if we didn't send some love to Sharon's other band, Lyons, and Ginger's band, the Droogettes. We also love Spiritual Cramp, Tommy and the Commies, and Wyldlife, but it seems like all those bands are doing pretty well for themselves as it is!
Q5) What's your favourite thing about Pouzza Fest?
Molly) While Molly's the only one who's played it before, with her former band the Up! Up! Ups!, we're all really excited to be heading to Montreal, and not just the poutine! Pouzza is a great chance to check out bands that you might have never come across before, plus it's so empowering to see such a diverse lineup in one place. Most of all, we're excited to play for a new crowd and get to party with our best friends.