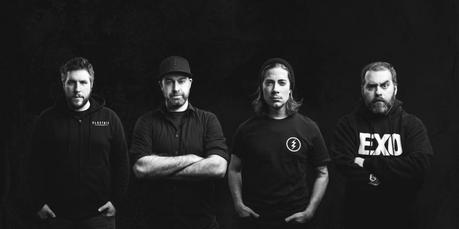 Next, up in our next '77 Montreal 5 Quick Questions Preview series, we've got Québec City punk band Mute.
Mute is a punk four-piece who are described as fast, technical, and melodic. The band has played over 600 gigs and have shared the same stages as Bad Religion and The Offspring, and they've toured with bands like Rise Against, NOFX and Lagwagon.
With Étienne Dionne on drums and lead vocals, Alexis Trépanier on guitar, Matt Kapuszczak also on guitar and Jean-Philippe Lamonde on bass and lead vocals, the band has been together for over 20 years and have put out five albums - Blueprints (2001), Sleepers (2004), The Raven (2008, Thunderblast (2011), and Remember Death (2016).
We're recommending you put Mute on your must-see list for '77.
Thanks to the guys for answering our questions.
5 Quick Questions with Mute
Q1) If you're on a road trip, what's the one album you can listen to on repeat?
Mute) Craig's Brother - Homecoming. I got that album when it came out more than 20 years ago and still listen to it regularly. Crucial album that was instrumental in defining the sound of the band.
Q2) Do you have any pre-show rituals?
Mute) Well... no. I know it sounds boring, but there isn't anything really. No rallying cry, fist bumps, group hugs, shots of hard liquor. We just warm up. Generally, we're just really itching to get out there as quickly as we can to start the show!
Q3) What can fans expect from a live performance?
Mute) An intense and passionate performance. We don't wanna be one of those bands that look like they don't wanna be there. We're giving everything we've got night in and night out.
Q4) Is there a band or artist you think people should be paying more attention to?
Mute) Adrenalized. A fantastic band from Donostia in Spain. We played several times with them during some of our tours and they're a killer live band. They released a new album this year, Operation Exodus. Needless to say it's excellent, one of the best albums of 2019 without a doubt. Do yourself a favour and check them out!
Q5) Do you have a favourite thing about '77 Montreal?
Mute) My favorite thing is that Pulley is playing, and I'll be able to see them again, roughly 23 years after the last time I saw them for the first time.
BONUS QUESTION) Is there anything you want to share with our readers?
We're very much looking forward to playing '77 Montreal! See you there real soon!!
Feature photo credit: Stéphane Bourgeois