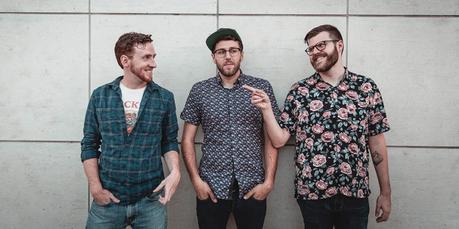 2019 is bringing us new music from Peterborough's I, The Mountain.
The band is made up of three Matthews, Matthew Lamers, Matthew Rappolt, and Matthew Morgan. They met in 2012 while attending university at Trent.
On April 18th I, The Mountain released their long awaited single, The Boat. They also released a fun video to accompany the song.
The band are well-known fixtures in Peterborough, having established themselves as the perfect openers for acts such as Elliot Brood, The Wooden Sky and The Strumbellas. The latest release includes collaborations with Canadian music icons and if you read ahead, they'll tell you who.
If you're a fan of indie-folk music, I, the Mountain is a band for you. If you're wondering what to expect from a live performance, think great hooks, beautiful harmonies and energy. The band is branching out and working to increase their fanbase across Ontario, including Kitchener-Waterloo, Toronto, and more.
Thanks to Matt, Matt and Matt for taking the time to answer our questions.
I, The Mountain Questions and Answers
Q1) If you're in charge of the music on a road trip, and can only pick one album to play on repeat, what album do you choose?
Matt L) The Weakerthans' Reunion Tour or In the Land of by Wintersleep
Matt M) Gordon by Bare Naked Ladies or Bad Blood by Bastille
Matt R) Saturday Night by The Wooden Sky or Both Ways by Donovan Woods
Q2) Do you have a dream venue or a favourite venue?
Favourite Venue) The Spill (R.I.P) - Peterborough
Dream Venue) Any large festival!
Q3) Do you remember the first album you bought for yourself?
ML) Sum 41 - Does This Look Infected?
MM) I think it was Millenium by The Backstreet Boys
MR) Silver Side Up by Nickelback
Q4) Does your band have an pre-show rituals?
I, The Mountain) Not really! Some general intimate touching, sometimes a quick pep talk and often the sacred removal of shoes.
Q5) Is there a band or artist you think people should be paying more attention to?
MM) It's super personal since they're friends of mine, but Eclectic Revival out of Hamilton are one of the tightest group of musicians and entertainers I've had the pleasure of meeting, and definitely deserve all the love
BONUS) Is there anything else you want us to share with our readers?
Our new single The Boat is out now! We were lucky enough to co-write it with Simon Ward (The Strumbellas) and record it with James McKenty (The Spades). You can stream it wherever you listen to your tunes. We have a new single ready to go, but no solid release date yet, so be sure to check us out on Instagram, Facebook or Twitter to stay in the loop.