Gallows Bound is our next band in the Pouzza Fest 5 Quick Questions series.
On Facebook, they list their genre as Appalachian Punk Bluegrass. That's a term I've never heard before. But, from the second I hit play, I was in love. If you like The Dead South, this is a band for you.
Gallows Bound has been making music together since 2012. They're a five-piece band out of Winchester, VA, made up of people who've known each other since childhood.
With Aaron Blow on bass, Jesse Markle on vocals and guitar, Jordan Joyes also on vocals and guitar, Justin Carver on banjo, and Rob Shultz on drums they're a quirky fun blend of punk and bluegrass that you need to hear. When Jesse and Jordan harmonize, it's magical.
They've just finished recording their sophomore album with Pete Steinkopf at Little Eden Recording Studio and we can expect a fall release. And we're sure we'll be hearing some new music at Pouzza Fest.
Touring extensively has honed their live show skills, and I'm hoping I can make it to catch their set. They'll be playing Cleopatra coffee on Saturday at 10:30 pm.
Gallows Bound links are at the very bottom of the post.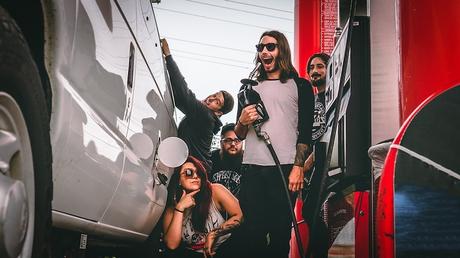 Q1) If you're in the car on a long drive between shows, what is the one album you can listen to on repeat?
Gallows Bound) The Lonesome Crowded West by Modest Mouse
Control by Pedro The Lion
Plastic Surgery Disasters/In God We Trust Inc
by Dead Kennedys
Sweetheart of the Rodeo
by The Byrds
Q2) Do you have any pre-show rituals?
Gallows Bound) Much like any ritual, the Gallows Bound Pre-Show Ritual is sacred and must remain mysterious. We can tell you though that it smells like Florida Water, it feels a lot like clean gym shorts, and it tastes like Jameson.
Q3) What can fans expect from a live performance?
Gallows Bound) Jesse does this involuntary thing where he stands on one toe and curls his foot around the back of his leg, its like some kind of thrash yoga pose. I'm not sure if he knows he's doing it but you can definitely expect that
Q4) Is there a band or artist you think people should be paying more attention to?
Gallows Bound) HAVOK, Cactus Attack, United Snakes
Q5) What's your favourite thing about Pouzza Fest?
Gallows Bound) Getting to catch up with so many of our road family and friends from all over the world and catching some really great shows all in one place!