My fellow 48fourteen author, Elizabeth Guizzetti, has answered my questions. I know her to be a funny, hardworking and kindhearted person, and it shines through in her answers.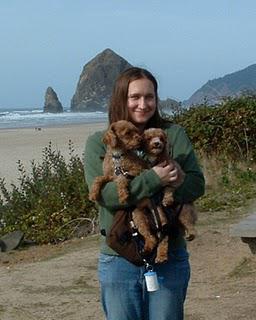 Elizabeth loves to create. In her mind, she has the best job (or jobs) in the world. She gets an idea and runs with it until it leads her to generate whatever it is going to be.
Over the past decade, she has created over 100 paintings, three graphic novels and a comic book series. Other Systems is her first published novel.
Elizabeth currently lives in Seattle with her husband and two dogs. 
What or who inspires you?
I am inspired by everything. I pick up little snippets of conversations when I am on the bus or I read an interesting news story. Sometimes I see something disgusting or beautiful. Then the story spirals out from there.
When did you first realize you wanted to write more than post cards and letters?
I was about 12 or 13 when I realized I never wanted to do anything other than write and draw for a living.
Who, living or dead, fictional or real, would you like to meet and pick their brains for ideas?
Albert Einstein, though I am not sure that I would understand everything he is saying. Richard Feynman was really good at explaining his ideas, so he would probably be a better choice.
What advice do you have for aspiring writers?
Write every day.
Don't get discouraged. Your first work might not be great, but if you keep working, you will get better. I look at the stuff I wrote five years ago and can't believe I ever thought it was good enough.
Use what you have.
Finish a project before you start another one. With few exceptions, everyone gets bored of their written or graphic novel somewhere in the middle. Keep working on it. If a new idea surfaces, I give myself five minutes to get the new idea written out and put into the queue. Then I go back to my current project.
Handle rejection.
If it helps, all my books have been rejected from both publishers and distributors. It hurts, but each time I pick myself up and keep writing.
Finally, be kind to others. It's both a big world and a small one.
What are you working on now?
On the drawing side of things, Faminelands 3: Mareton's Curse. This is the final graphic novel in the series of two elfin mercenaries.
As for written novels, I am working on a story about an assassin. At this point, I am calling it the Fairsinge and I am beginning to write another novel in the Other Systems universe.
Link to Other Systems:

http://48fourteen.com/catalog/other-systems