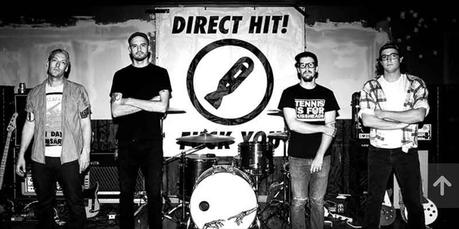 Our next entry in the Pouzza Fest 5 Quick Questions Series is from DIRECT HIT!' s Nick Woods.
DIRECT HIT! is a Milwaukee-based punk band who're currently signed with Fat Wreck Chords. The current line up is Nick Woods on guitar and vocals with Devon Kay on backup vocals and guitar. DIRECT HIT! have been making records since 2007 and they look like they'll be a ton of fun live.
Thanks to Nick Woods for taking the time to answer our questions.
It's Q&A time!
Q1) If you're in the car on a long drive between shows, what is the one album you can listen to on repeat?
Nick) Devin Davis, Lonely People Of The World Unite.
Q2) Do you have any pre-show rituals?
Nick) I have a cigarette and chug a bottle of water by myself in open air. Usually does a lot to calm the nerves.
Q3) What can fans expect from a live performance?
Nick) Sweating, gasping, desperate screaming.
Q4) Is there a band or artist you think people should be paying more attention to?
Nick) Telethon from Milwaukee gets cooler every time I listen to them. They haven't toured much yet. You all should make them.
Q5) What's your favourite thing about Pouzza Fest?
Nick) Being humiliated for my inability to speak French.