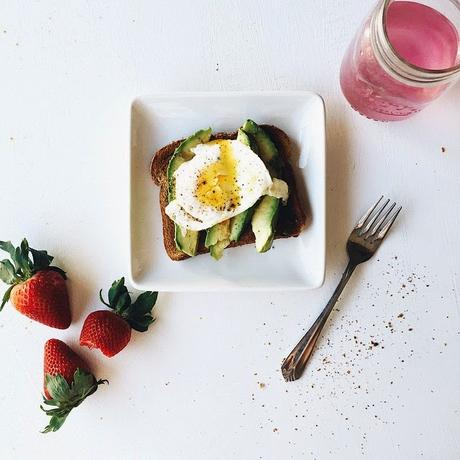 Eating healthy and delicious food is hard when you are first starting off. I feel like I am constantly searching for recipes that are low-calorie, packed with flavor and filling. Yes, filling is the thing I struggle with most. It is probably because I am retraining my stomach and brain on proper portion sizes (I can eat almost an entire pizza by myself) and that takes awhile! Anyway, I thought I'd share five of the meals I currently have on rotation, and bonus! They are quick to make! Like, 20 minutes and under quick, which is also an important thing for me.
1. Avocado Egg Toast. This is one of my breakfast staples. It comes in at about 250 calories with a slice of whole wheat toast, 1/4 of sliced avocado and one fried egg. Best way to start off the day, and it is really pretty to look at. (Because we all like a good Instagram food pic! Ha.)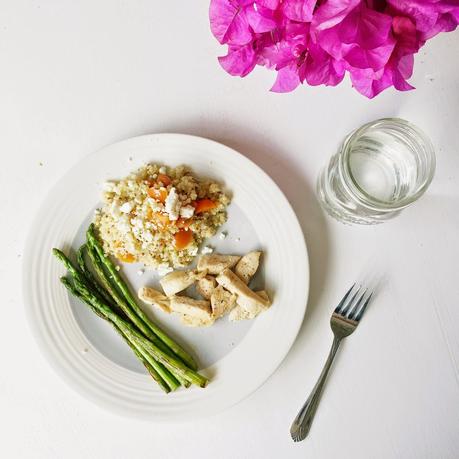 2. Grilled Chicken with Quinoa and Asparagus. This is absolutely delicious for dinner after a workout, or I even eat it for lunch if I went for a long run in the morning. Grill 1/2 cup of chicken, mix in some grape tomatoes and one tablespoon of feta cheese into your cooked quinoa, and serve it up with grilled asparagus. So many robust flavors! This meal has about 400 calories, and it keeps me satisfied and energized for hours.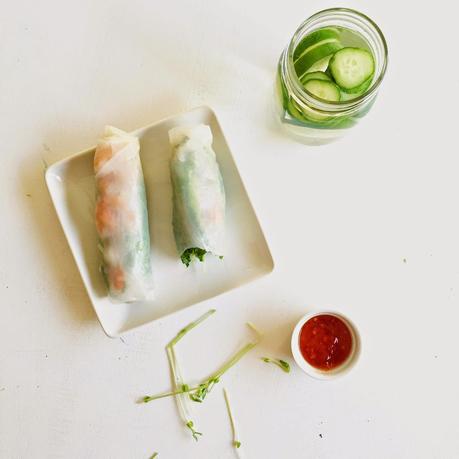 3. Fresh Shrimp Spring Rolls. Okay, this might be my favorite thing on the whole planet to eat for lunch. I learned how to make these when I was 19 while working at a Thai restaurant, and I am telling you they changed my world. You take two rice papers, lightly soak them and then gently overlay them like a Venn diagram. In the middle where the rice papers overlap, place a good chunk of lettuce, sprouts, basil, shredded carrots, and about 4-5 pieces of large shrimp. Starting from the top, roll the rice paper like a burrito making sure you pull it tightly over the stuffing. Serve it with some sweet chili sauce and bam! You are in heaven. Best thing? You are totally full after eating two of these AND they are only 200 calories. For the both of them! Touchdown!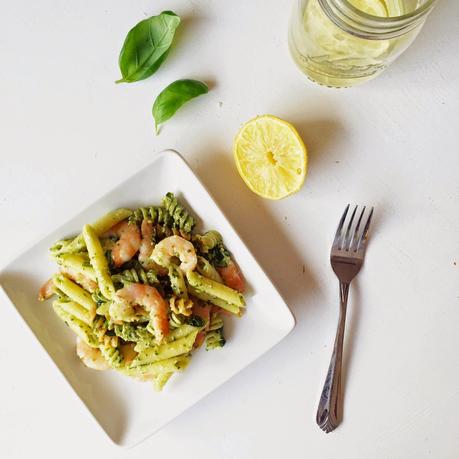 4. Pesto Shrimp Pasta. I would also like to note this is equally as wonderful with grilled chicken, which is cheaper and most likely on hand. This is my default dinner when I don't feel like cooking up something extravagant (which is 98.3% of the time). Cook 1/4 cup of penne or rotini pasta, thaw out 1/4 cup of shrimp, and mix it all together with 2 tablespoons of pre-made pesto from Costco. Or if you are a superhero, you can mix it in with fresh homemade pesto, but I don't have the time for that or the desire. Although I do like the idea of it freshly made. (Baby steps, Abbey, baby steps!) This is literally one of the most impressive thing you can make in under 15 minutes. I highly recommend. Oh, and the calories for this whippersnapper of a meal weigh in at 275 with shrimp and 325 with 1/2 cup of grilled chicken. Nice!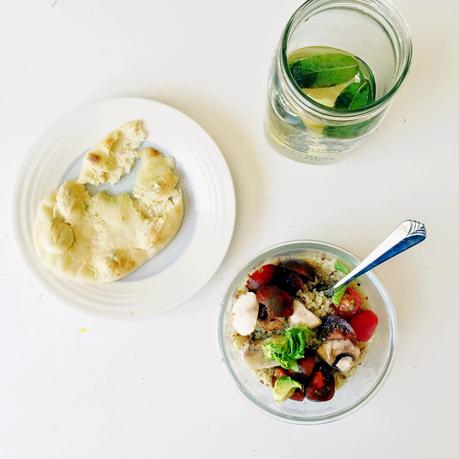 5. Quinoa Veggie Salad with Naan and Hummus. This is what I eat when I am doing a refrigerator dump and have no energy left to make food because Kayla's resistance training has sucked the life (and hopefully fat) out of me. I like to cook a huge batch of quinoa for the week so I can add it into my meals for a healthy, gluten-free grain. All this requires is 1/2 cup of cooked quinoa, any medley of random vegetables in your refrigerator (I have tomatoes, avocado, and mushrooms in mine) and 1 tablespoon of feta cheese to give it some bite. I eat it with a slice of mini naan with a spread of 1 tablespoon of hummus. I think this makes for a light and satisfying lunch, and the calories are about 400. This meal is extra tasty with my infused detox water recipes.
I hope these are helpful if you are looking for new clean eating ideas. I am on week three of my Bikini Body Guide workouts, and I am already noticing a significant difference in my body. My stomach isn't as poochy and everything is starting to tighten up. Obviously, I still indulge in donuts and pizza once and awhile, but within reason now (as compared to every other day before I started this whole fitness journey). I still don't believe in depriving myself and like to reward myself with treats, but eating healthy is a huge staple in getting the fit body I want. And I am proud of myself for sticking with it!