When it comes to my shower, I don't like to keep too many products in there, as it can often get cluttered. Instead, I rotate key products that I know I'll use each time I step in and I've found some real winners of late so I'm sharing with you 5 in-shower products you need to try!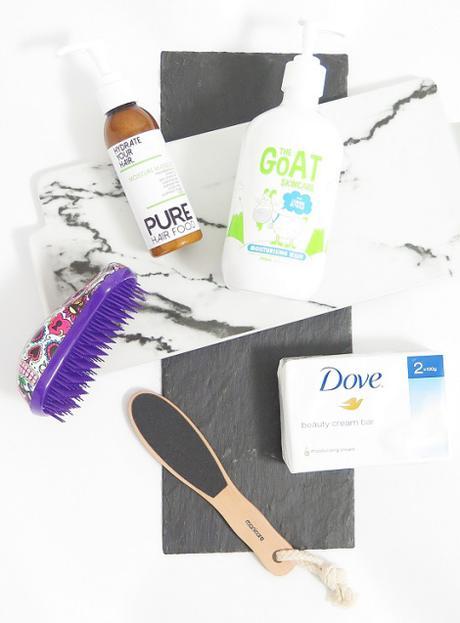 A detangling brush is a product everyone should try and I have one living in my bedroom as well as the Dessata Detangling Brush* in my shower. The brush is fabulous at getting through any knots or unruly bits of hair, pain free. Brushing your wet hair with a plastic, short bristled brush like this is absolutely fine (forget the myth about hair getting ripped out when brushed wet – I've had it debunked by a hairdresser!) and I keep one in the shower to brush through my hair after shampooing and before applying a conditioner or hair masque so I'm able to really treat each strand with product.
The Pure Hair Food Moisture Masque* is a new brand I've been trying out and I've really been enjoying not only the formula of the masque but also the easy to use pump bottle! With a range of masques for different hair types, this moisture version contains natural antioxidants, macadamia oil and pro-vitamin B5 to reverse damage to the hair by allowing moisture to penetrate the hair strands. Unlike other hair masques that can be heavy and silicone-y, this product is rich but light in texture without compromising on it's ability to treat the hair. It leaves my hair feeling light, soft and glossy, even days after use. It's a real winner!
As someone who doesn't remember to moisturise their body everyday, I love having the backup of using a moisturising bodywash in the shower and recently The Goat Skincare Moisturising Wash with Lemon Myrtle* has been my go to. Not only does it have a fresh and awakening scent thanks to the addition of lemon myrtle, it also contains goat milk and the two provide a soothing, hydrating and a natural antiseptic wash. The formula is light in texture and doesn't leave an uncomfortable residue after rinsing but it does deliver on cleansing the skin and giving it a boost of moisture, leaving it smooth and soft.
While I'm usually quite low key with my foot care, opting for a simple regime, this Manicare Dual Sided Wooden Foot File* is a must. The file has great texture, making light work of tougher skin whilst still being gentle so you can use it on the whole foot and not just on the heels. The wooden handle makes it easy to hold and use both wet and dry.
I honestly hadn't used a bar of soap for years before picking up a Dove Beauty Cream Bar when it was on sale a few months ago and since then, I've completely fallen in love with it. Unlike a bar of soap, it contains moisturising cream in the formula, allowing it to cleanse and hydrate your skin. I've also found it perfect for shaving as it lathers up really well and thanks to the gentle formula it hydrates and soothes the skin, reducing the chance of razor burn/rash!
What are your in-shower product essentials?


| Bloglovin' | Facebook | Twitter | Instagram |
*The products marked with an asterisk were kindly provided. As with all my posts, it is 100% honest and of my own personal opinion. For more information, visit my Disclosure Policy.