Any entrepreneur, big or small will always find wisdom in pages of books. If you are on your way to become an entrepreneur or if you are blazing the trail currently – then these 5 books for entrepreneurs will be very useful for you. These books contain experiences and tips that have been written by someone who has strode your path earlier. Make the most of the knowledge that they have to offer you.
No doubt, today there are many online resources where you can read articles and get the precise information you are looking for, but reading books is a whole new ball game. They often are more narrative in nature and provide you with a wider perspective than you can possible get with a blog post.
To kick you off, here are some books for entrepreneurs that you can start with: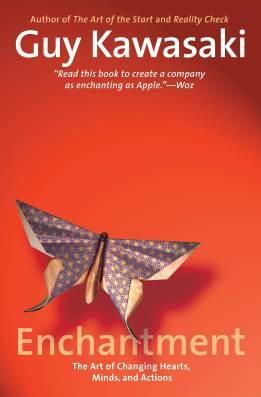 Enchantment
Author: Guy Kawasaki
Book Summary:
Enchantment, as defined by bestselling business guru Guy Kawasaki, is not about manipulating people. It transforms situations and relationships. It con­verts hostility into civility and civility into affinity. It changes skeptics and cynics into believers and the undecided into the loyal.Enchantment can happen during a retail transaction, a high-level corporate negotiation, or a Facebook update. And when done right, it's more powerful than traditional persuasion, influence, or marketing techniques.Kawasaki argues that in business and personal interactions, your goal is not merely to get what you want but to bring about a voluntary, enduring, and delightful change in other people. By enlisting their own goals and desires, by being likable and trustworthy, and by framing a cause that others can embrace, you can change hearts, minds, and actions.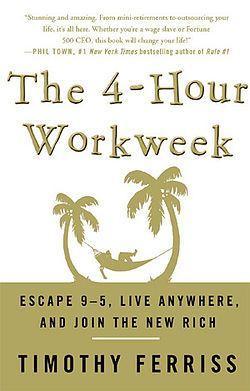 The 4-hour Work Week
Author: Tim Ferris
Book Summary:
In this book, author Tim Ferris revolutionizes how a person can change his lifestyle to become more fulfilling and prosperous. Forget the old concept of retirement and the rest of the deferred-life plan–there is no need to wait and every reason not to, especially in unpredictable economic times. Whether your dream is escaping the rat race, experiencing high-end world travel, earning a monthly five-figure income with zero management, or just living more and working less, The 4-Hour Workweek is the blueprint.
This step-by-step guide to luxury lifestyle design teaches:
•How Tim went from $40,000 per year and 80 hours per week to $40,000 per month and 4 hours per week
•How to outsource your life to overseas virtual assistants for $5 per hour and do whatever you want
•How blue-chip escape artists travel the world without quitting their jobs
•How to eliminate 50% of your work in 48 hours using the principles of a forgotten Italian economist
•How to trade a long-haul career for short work bursts and frequent "mini-retirements"
The new expanded edition of Tim Ferriss' The 4-Hour Workweek includes:
•More than 50 practical tips and case studies from readers (including families) who have doubled income, overcome common sticking points, and reinvented themselves using the original book as a starting point
•Real-world templates you can copy for eliminating e-mail, negotiating with bosses and clients, or getting a private chef for less than $8 a meal
•How Lifestyle Design principles can be suited to unpredictable economic times
•The latest tools and tricks, as well as high-tech shortcuts, for living like a diplomat or millionaire without being either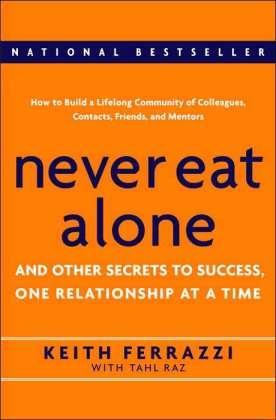 Never Eat Alone
Author: Keith Ferrazzi
Book Summary:
The secret, master networker Keith Ferrazzi claims, is in reaching out to other people. As Ferrazzi discovered early in life, what distinguishes highly successful people from everyone else is the way they use the power of relationships—so that everyone wins.
In Never Eat Alone, Ferrazzi lays out the specific steps—and inner mindset—he uses to reach out to connect with the thousands of colleagues, friends, and associates on his Rolodex, people he has helped and who have helped him.
The son of a small-town steelworker and a cleaning lady, Ferrazzi first used his remarkable ability to connect with others to pave the way to a scholarship at Yale, a Harvard MBA, and several top executive posts. Not yet out of his thirties, he developed a network of relationships that stretched from Washington's corridors of power to Hollywood's A-list, leading to him being named one of Crain's 40 Under 40 and selected as a Global Leader for Tomorrow by the Davos World Economic Forum.
Ferrazzi's form of connecting to the world around him is based on generosity, helping friends connect with other friends. Ferrazzi distinguishes genuine relationship-building from the crude, desperate glad-handling usually associated with "networking." He then distills his system of reaching out to people into practical, proven principles. Among them:
Don't keep score: It's never simply about getting what you want. It's about getting what you want and making sure that the people who are important to you get what they want, too.
"Ping" constantly: The Ins and Outs of reaching out to those in your circle of contacts all the time—not just when you need something.
Never eat alone: The dynamics of status are the same whether you're working at a corporation or attending a society event— "invisibility" is a fate worse than failure.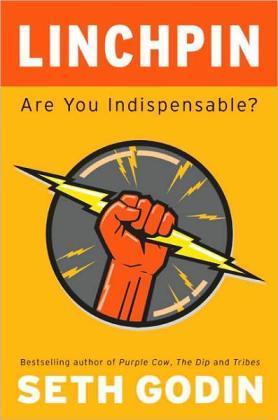 Linchpin
Author: Seth Godin
Books Summary:
"The only way to get what you're worth is to stand out, to exert emotional labor, to be seen as indispensable, and to produce interactions that organizations and people care deeply about."
In bestsellers such as Purple Cow and Tribes, Seth Godin taught readers how to make remarkable products and spread powerful ideas. But this book is different. It's about you – your choices, your future, and your potential to make a huge difference in whatever field you choose.
There used to be two teams in every workplace: management and labor. Now there's a third team, the linchpins. These people invent, lead (regardless of title), connect others, make things happen, and create order out of chaos. They figure out what to do when there's no rule book. They delight and challenge their customers and peers. They love their work, pour their best selves into it, and turn each day into a kind of art.
Linchpins are the essential building blocks of great organizations. Like the small piece of hardware that keeps a wheel from falling off its axle, they may not be famous but they're indispensable. And in today's world, they get the best jobs and the most freedom.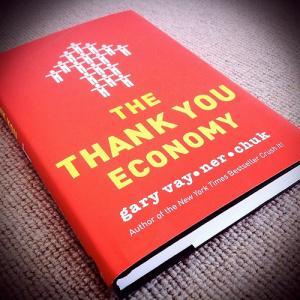 The Thank You Economy
Author: Gary Vaynerchuk
Book Summary:
If this were 1923, this book would have been called "Why Radio Is Going to Change the Game" . . .
If it were 1995, it would be "Why Amazon Is Going to Take Over the Retailing World" . . .
The Thank You Economy is about something big, the way we communicate, the way we buy and sell, the way businesses and consumers interact online and offline. The Internet, where The Thank You Economy was born, has given consumers back their voice, and the tremendous power of their opinions via social media means that companies and brands have to compete on a whole different level than they used to.
Here renowned entrepreneur Gary Vaynerchuk reveals how companies big and small can scale that kind of personal, one-on-one attention to their entire customer base, no matter how large, using the same social media platforms that carry consumer word of mouth. The Thank You Economy offers compelling, data-driven evidence that we have entered into an entirely new business era, one in which the companies that see the biggest returns won't be the ones that can throw the most money at an advertising campaign, but will be those that can prove they care about their customers more than anyone else. The businesses and brands that harness the word-of-mouth power from social media, those that can shift their culture to be more customer-aware and fan-friendly, will pull away from the pack and profit in today's markets.
Hope that this list is useful for anyone who is looking to start reading and understand some behind-the-scene tricks and cautionary words of advice from some of the most successful entrepreneurs of our time.
Who Read This Post, Also Read:
The Top 10 Self Development Books for Entrepreneurs
The Top 10 Inspiring Books For Entrepreneurs