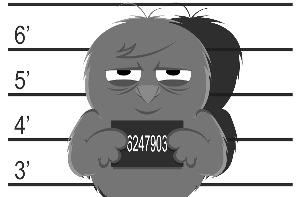 More and more businesses are realising that Twitter can add value to their digital marketing campaigns, but unfortunately many small businesses make numerous mistakes. In this post I highlight 5 of the biggest mistakes that I frequently see on Twitter, which should be avoided if you want your business to be successful on the social network.
#1 – Creating An Account And Not Using It
I debated whether I included this mistake or not in the list – but it's a mistake I encounter over and over again. You're better off not having a Twitter profile than promoting one that you never update! Not updating your Twitter can leave people questioning whether your company has gone out of business, and generally reflects badly on your company. If you start a Twitter account for your business, make sure either you or a member of staff is going to regularly Tweet and engage with followers.
#2 – Not replying To @ Mentions
If you are keen to make your Twitter profile engaging, you need to reply to messages targeted at you. If someone retweets you, send them a quick @ shout out to thank them. This encourages them to retweet you again in the future. If someone sends you an @ mention, especially if it is a complaint! Make sure to reply promptly, and positively.
#3 – Using Auto DM's Or @ Mentions
Users are turned off by automated messages or @ mentions. If you're going to use a strategy like this, make it manual, and make sure the mention/message is tailored to the particular follower. Automatically messaging people who follow you just increases the chance of them immediately unfollowing you, rather than encouraging an increase in engagement.
#4 – Hard Selling Your Products Or Services
Twitter is not somewhere to spam 20 sales tweets a day. This sort of tweeting will result in your business losing more followers than a president who is caught stealing from the treasury. When you are writing tweets, try to put yourself in the mind of your followers (potential customers or current customers!) think about what they would like to hear about. What are they interested in? Why do you think they have chosen to follow you?
One thing you can be sure of is that they are not following you to receive a constant stream of sales pitches. It's likely they're interested in learning more about the industry, so supply them with industry news, interesting facts, pictures (where relevant) and links to other websites which could help them to solve their problems.
For example, if you are an accountant, tweet about budget changes, tips on how to reduce tax expenditure, tips on the best accounting software to use, tips for businesses to increase their sales or cut costs, etc.. Giving away free, helpful information to your followers increases engagement, and builds rapport with your followers, increasing the chances that they will choose to do business with you, rather than a competitor.
#5 – Being Irrelevant
This is the final mistake I will be covering – being irrelevant. If you are an accountant, tweet about accounting and business (not cute puppy photos!). Likewise, if you are a real estate agent, tweet about the housing/lettings market and give people tips on how to choose a good property, etc. Do not spam your followers with irrelevant tweets.
Remember that a follower is following you for a reason, they thought that you could add value in some way to their lives. Respect this! This follows on from #4 – try to put yourself in the customer's shoes and think about what you would want to hear from your company if you were them. (Be honest with yourself!)
So – make sure to avoid the above 5 big Twitter mistakes that many small businesses make. Not only will mistakes like these cost you business from your followers, but they can also negatively affect your reputation in the long term.