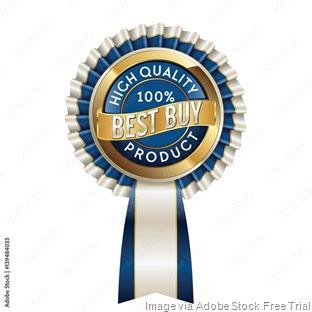 Every entrepreneur believes that their product or service is memorable, and that every customer will quickly see the advantage over competitors. Yet true product differentiation in the eye of the customer is rarely achieved. According to an old but still relevant survey by
Bain & Company
, 80% of businesses believe they have differentiated offerings, but only 8% of customers agree.
Even back then, experts projected that businesses with truly differentiated offerings had only an 80% chance of long-term success, compared to 'me-too' companies with a 20% chance. In my view both of these numbers have come down recently. Differentiation is still a key requirement for a successful startup rollout, and but it must be sustainable to keep ahead of new competition.
Since I'm a fan of real-world feedback, I was intrigued by the insights on differentiation in the classic book, "Roadside MBA: Back Road Lessons for Entrepreneurs, Executives, and Small Business Owners," by Michael Mazzeo, Paul Oyer, and Scott Schaefer. As well as having great academic credentials, these guys traversed the USA getting lessons from real small businesses.
Here are a few of their conclusions relative to product differentiation, supplemented by my own recommendations from recent experience and other experts:
Work on perceptions, as well as reality. It doesn't do you any good to be different, if your customers can't perceive the difference, or you don't tell anyone about it. The days are gone for the "if we build it, they will come" mentality. Marketing and target customer relationships are always required, no matter how obvious the differentiation is to you.

Of course, working on perception can backfire if the differentiation reality isn't there. Remember the old saying, "You can put lipstick on a pig, but it's still going to be a pig." Like a damaged reputation, a discredited differentiation is extremely difficult to turn positive.

Quantify the difference for your customers. Use numbers to make your offering the clear alternative. Fuzzy marketing terms like easier to use, lower cost, and higher quality are not effective differentiators, since they have been overused to the point of having no meaning.

Real data and customer testimonials say it best, such as get it done in half the time, or half the cost, or comes with a 5-year warranty. In my experience, numbers less than 20% are not enough, since small numbers are not likely to overcome the inertia and learning curve required of most customers.

Focus on customers you really care about, and who care about you. Trying to be all things to all people never works. Identify your target customer segment before you finalize your differentiation. For example, customers with high disposable income will likely respond better to unique features, rather than a lower cost.

One business visited on the road had successfully implemented a product-differentiation strategy to appeal to the 20% of their clients who were the most profitable, and discourage the 80% who were more costly. They noted that customers' loyalty grew with their real preference for the unique product features offered.

Customize to differentiate, but do it efficiently. The new generation of customers expect to get what they want, when they want it, customized to their taste. So customization is an important differentiation strategy, but be sure to strike a balance between the revenue potential of the effort, versus the costs required to execute.

We have moved from the era of mass customization to collaborative customization. Today, differentiated companies enable customers to determine the precise product offering that best serves that customer's needs. For example, MakeYourOwnJeans encourages customers to tailor-make jeans dynamically per their specifications.

Define a unique selling proposition (USP), and keep it simple. Complex or highly technical selling propositions are not good differentiators, since they will likely not grab people' attention or be remembered by most customers. A good example is Dominos Pizza "We'll deliver in 30 minutes or less, or it's free!"