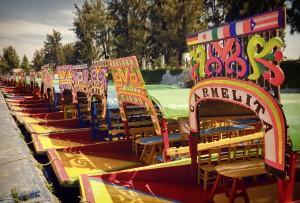 For the next stop on our healthy travel tour, we're visiting one of the largest and most vibrant cities in the world: Mexico City.
Throughout the year, travelers flock to the lively metropolis to explore its many historic and modern attractions. This cultural hub features art, centuries-old UNESCO World Heritage sites, delicious cuisine, and more. Although five days is a good amount of time to visit the must-see hot spots, many experienced travelers would advise you to stay longer if possible.
Before we get started, let's address a couple of safety concerns. There are currently no travel advisories in effect for Mexico City—but be sure to do your research before traveling. Additionally,  stick with bottled water during your stay; don't drink the tap water.
Now, for our five healthy days itinerary:
DAY 1
Breakfast: Kick off your trip with a cup of coffee and eggs at Café La Blanca.
Workout: Sign up to join a cycling group with Bicitekas and tour around the neighborhoods of Mexico City.
Lunch: Stop by Restaurant El Cardenal for a traditional countryside-inspired dish, such as fresh tuna fish tostadas, sea bass, or corn soup.
Mind/Body Balance: La Secretaria de Educacion Publica is a former monastery that has two front courtyards lined with 120 inspiring frescoes, which were painted by Diego Rivera in the 1920s. Each courtyard has its own theme; one features the labor industry and agriculture, while another portrays traditions and festivals.
Must-See Attraction: The City of Teotihuacan is a UNESCO World Heritage site that contains some of the largest pre-Columbian pyramids in Mexico, including the Palace of the Plumed Butterfly and the Pyramid of the Sun. Visitors can also visit Museo de la Sitio, a museum that holds artifacts from when the pyramids were built.
Dinner: Enjoy a delicious fish dish, fresh salad, or the Azteca steak at Piramide Charlie's.
DAY 2
Breakfast: Enjoy breakfast at Café de Tacuba.
Workout: Go rock climbing or take a Pilates class at the gym Centro Qi.
Lunch: Try a refreshing salad and hearty bowl of soup at Les Moustaches.
Mind/Body Balance: El Angel de la Independencia (Angel of Independence) was originally built to commemorate Mexico's independence from Spain, but has recently become a popular gathering spot for locals. Travelers can climb the 200+ steps to the top of the tower if they choose, but be advised that the line to do this is very long.
Must-See Attraction: The art nouveau and art deco architecture and stunning Mexican murals alone are reason enough to visit the Palacio de Bellas Artes (Palace of Fine Arts). The palace hosts music, dance, theatre, opera, and literary performances for visitors to enjoy as well.
Dinner: Restaurante Danubio features a robust menu of international cuisine, including a variety of fish dishes and juicy steaks.
DAY 3
Breakfast and Workout: Join the Iztaccihuatl Volcano hiking tour for breakfast and make your way to Mexico's third highest mountain for an outdoor adventure.
Lunch: If you don't grab lunch during the tour, stop at Restaurante Nagaoka—a Japanese restaurant that features delicious sushi and teriyaki kabobs.
Mind/Body Balance:  When you return, visit the Museo Frida Kahlo (Frida Kahlo Museum), the former home of the country's most famous artist. In addition to seeing where Frida lived and painted, you can also view some of her most beloved pieces.
Must-See Attraction: The Museo Nacional de Antropologia (National Museum of Anthropology) is one of the hottest attractions in the city. Travelers can view dozens of exhibits, which feature various artifacts from Mexico's history, such as the Aztec Calendar Stone and the statue of the Aztec god of Art, Xochipilli.
Dinner: Try the tostadas or tacos at Los Remedios.
DAY 4
Breakfast: Avoid the hotcakes and have a refreshing bowl of yogurt and fruit or eggs at Café El Popular.
Workout: Learn more about the Mexican culture and sign up for a personal walking tour that explores the lesser-known destinations that are popular among the locals.
Lunch: Enjoy a gourmet salad at Azul Historico.
Mind/Body Balance: The Metropolitan Cathedral is now the national cathedral of Mexico, but was once the site of religious activity during the Aztec empire. The cathedral was built between the 1500s and 1800s and includes 14 chapels, five naves, as well as underground catacombs.
Must-See Attraction: The Templo Mayor is an archaeological site that features the Pyramid of Huitzilopochtli, which was an important spiritual temple of the Aztecs. The museum that's adjacent to the site displays various artifacts from the area as well.
Dinner: Try a traditional Mexican dish at La Soldadera, such as the shrimp tacos or chipotle steak.
DAY 5
Breakfast: Have a fresh cup of coffee and breakfast at Café Punta del Cielo.
Workout: Go for a brisk walk or jog at Chapultepec Park, the largest and most popular park in the city.
Lunch: Grab lunch at La Finca Espanola.
Mind/Body Balance: Head down to Xochimilco and take a ride on a trajinera (an open-air boat) down one of the town's canals to a wildlife preserve and floating gardens.
Must-See Attraction: Visit the Chapultepec Castle, the former home of the Mexican President. The castle now features the Museo Nacional de Historia (Mexican History Museum) and features stunning gardens.
Dinner: The Zagat-rated restaurant, Villa Maria features traditional Mexican cuisine, such as tostadas and flan—just be sure to share the dessert!