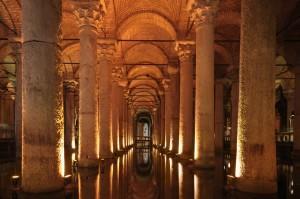 For the next stop on our healthy tour around the world, we find ourselves in the vibrant and historic city of Istanbul.
From ornate and centuries-old mosques and churches to lively restaurants and art galleries, Istanbul has rightfully earned its name as the 'City of World's Desire.' Located between Europe and Asia, the city provides a beautiful juxtaposition of these eastern and western cultures that can't be matched anywhere else. Take a tour through Byzantine palaces or cruise along the narrow strait of the Bosphorus or sit back and relax with a delicious cup of kahve (Turkish coffee).
While walking throughout various neighborhoods in the city can be enjoyable, you'll want to utilize the city's bus and tram systems to cover more ground.
And now, here's your healthy itinerary for the stunning city:
DAY 1
Breakfast: Begin your stay with some kahve and breakfast at Can Oba Restaurant.
Workout: Take a brisk walk through the Hippodrome, which was once a major arena that housed chariot races for Byzantine Emperors. View the beautifully landscaped property, as well as the remaining obelisks and statues.
Lunch: Enjoy lunch and tea at Loti Café & Dining.
Mind/Body Balance: The Blue Mosque, which dates back to the early 1600s, is a beautiful site to behold—so it's no wonder it's one of the biggest tourist attractions in the city. Travelers should dress conservatively when visiting the religious site, particularly women, who are required to wear headscarves.
Must-See Attraction: Hagia Sophia is one of the most iconic structures in Istanbul and has a history that's as fascinating as its architecture. Although the building was a church for almost a thousand years, it served as a mosque for a few centuries before turning into a secular museum.
Dinner: End the day with a fresh seafood dish at Seven Hills Seafood Restaurant.
DAY 2
Breakfast: Kick off the day with coffee and a light meal at Café Rumist.
Workout: Walk part of The Theodosian Walls that surround Istanbul, which were built by Constantine the Great many centuries ago.
Lunch: Try the homemade dishes and freshly brewed Turkish coffee at Kefy-i Mekan Café and Restaurant.
Mind/Body Balance: Attend the Egyptian Bazaar and Bosphorus Cruise, which starts with a tour through the Spice Market and ends with a cruise that travels past palaces and other attractions along the European and Asian shores.
Must-See Attraction: Visit the Topkapi Palace, which was the home of the Ottoman Sultans from 1465 to 1856. Today, the palace is a museum that allows visitors to view its incredible architecture, landscaped courtyards, and various exhibits, including ancient religious relics.
Dinner: Eat like a sultan at Pasazade, which specifically serves Ottoman cuisine, such as kebabs with a yogurt sauce and sea bass stew.
DAY 3
Breakfast: Restore your energy with breakfast at Antiochland Café & Restaurant.
Workout: Go for a walking tour through Istanbul's various neighborhoods and monuments.
Lunch: Try the fresh meat and vegetable kabob at Donerci Sahin Usta.
Mind/Body Balance: The Patriarchal Church of St. George is part of a group of buildings known as the Greek Patriarchate. Explore the church's ornate carvings, Byzantine mosaics, and religious artifacts.
Must-See Attraction: There are over a million objects at the Istanbul Archaeology Museum, including the Alexander Sarcophagus and the Sarcophagus of the Crying Women.
Dinner: Wind down with dinner at Imbat Restaurant, which features Turkish Aegean cuisine.
DAY 4
Breakfast: Enjoy a cup of kahve and breakfast at Namil Gurme Karakoy.
Workout: Rent a bike and take a self-guided tour of the city.
Lunch: Try the grilled seafood lunch at Cenevis Café & Restaurant.
Mind/Body Balance: For an incredible 360-degree view of Istanbul, make your way up to the top of the Galata Tower, which was originally built in the 6th century. Fortunately, it has been repaired within the last century, making it the perfect destination for any visitor.
Must-See Attraction: Built in 532 AD, the Basilica Cistern lies underneath the Stoa Basilica and was used to store water for the Great Palace. Walk along the raised wooden platforms and view the incredible design of the structure.
Dinner: Dine on a delicious Mediterranean dinner at Hamdi Restaurant.
DAY 5
Breakfast: Try a freshly baked croissant and cup of Turkish tea at Heirloom Café & Market.
Workout: Go for a run Macka Parkl.
Lunch: Try the rotisserie chicken and hummus at Unter.
Mind/Body Balance: Relax with a spa treatment and maybe even a fish-pedicure at Balıklı Kaplıca. It's said that a shepherd boy discovered the healing qualities of the local mineral water, including the fish that pick dead skin off the body. Don't worry, it doesn't hurt a bit!
Must-See Attraction: Visit the Dolmanbahce Palace, which housed the last Ottoman sultans during the 20th century.
Dinner: Dine on a decadent meze platter (which includes stuffed zucchini flower, eggplant salad, and baby artichokes), sushi, or grilled beef while gazing out on the stunning view of the city at Vogue.