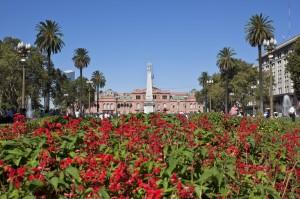 For our next stop on the five healthy days tour, we arrive at what is arguably the world's best destination for a night of steak and Tango: Buenos Aires.
Considered the "Paris of South America" due to its French architectural flare, Buenos Aires offers a unique blend of European charm and a vibrant Latin American culture. Between amazing art collections, incredible cuisine, and a world-class fútbol stadium, the capital of Argentina has plenty to offer to locals and travelers alike. Explore any of the 48 neighborhoods that make up the city and enjoy the unique character of each and every one.
When traveling about, take the subway (or Subte, as it's known in Buenos Aires) or hail a yellow and black taxi. Also, be aware that the locals love to stay up late—which means dinner typically won't start until around 9:30 at night. So if you get hungry before then, you may want to stop by a nearby café for some coffee and a light snack.
And now, our five-day itinerary for Buenos Aires:
DAY 1
Breakfast: Kick off the trip with a fresh cup of coffee and a light meal at Café Martinez, a popular breakfast spot among the locals, or portenos.
Workout: Rent a bike from Biking Buenos Aires and take a self-guided tour around some of the local neighborhoods.
Lunch: Enjoy a refreshing but hearty salad or sandwich at Café Nostalgia.
Mind/Body Balance: Visit the local ecological reserve and hike along one of the many trails near the Rio de la Plata, the world's widest river.
Must-See Attraction: Check out El Zanjon, a museum and event space located in a 178-year old mansion. The mansion holds ancient artifacts and provides an insightful look into the city's history, which is over 500 years old. Plus, you even get to tour through the building's original underground tunnels. Pretty cool.
Dinner: The beef in Buenos Aires is some of the best in the world, largely because it's all from grass-fed cattle. Go to La Brigada for some authentic Argentinian steak—just don't overdo it on the portion size.
DAY 2
Breakfast: Try a fruit or veggie filled crepe at Aires Café & Crepes.
Mind/Body Balance: Visit the Teatro Colon, or the Colon Theater, a stunning opera house with European-inspired design. Famous artists from all around the world perform at the theater between April and December. If you're there during this time, see a ballet or opera performance. If you don't see a show, go for a guided tour of the building.
Lunch: Refuel at Café de La Ciudad with a sandwich or opt for a healthy pizza (go easy on the cheese and toppings!).
Workout: Attend a yoga session at Buena Onda Yoga.
Must-See Attraction: While visiting a cemetery may not be on the average to-do list during a trip, you won't want to miss the famous Recoleta Cemetery. Don't worry – this popular spot is anything but creepy. The cemetery also features a variety of stunning artwork, ornate mausoleums, and an incredible Parisian structure known as the Circulo Militar. It's also the resting place of a number of important political figures of Argentina, including Eva Peron, the former First Lady of Argentina, who was the inspiration for Evita.
Dinner: Enjoy a modern take on traditional Argentinian cuisine at Miranda. While the restaurant is famous for its delicious barbequed meats, there are plenty of vegetarian dishes from which to choose.
DAY 3
Breakfast: Have a delicious cup of freshly squeezed orange juice and breakfast at Nucha Café.
Workout: Go for a jog around Parque Las Heras.
Lunch: Give the cows a break and have some Asian fusion cuisine at Lizzie's.
Mind/Body Balance: Relax and restore your physical and mental energy with a spa treatment at Ser Spa.
Must-See Attraction: Since Buenos Aires is known for its incredible art collection, a visit to the Museo Nacional de Belles Artes (National Museum of Fine Arts) is a must. The museum includes both modern and international art that dates back to the Middle Ages, as well as works by renowned artists such as Rembrandt, Goya, and Manet.
Dinner: At Juana M., choose a meal that includes the massive salad bar. The locals love it!
DAY 4
DAY 5