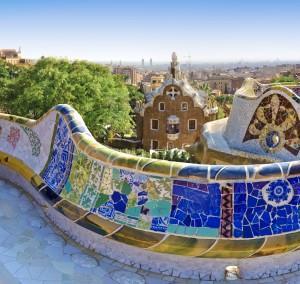 Our next stop in the five healthy days tour is to the energetic, historical, and eccentric city of Barcelona, Spain. A city that hosts a culture that is as vibrant as the colorful mosaics and unique buildings that make up the city; Barcelona is perfect for all types of travelers.
Take a stroll down the narrow streets lined with Art Nouveau-style buildings, watch a classical music performance at the Catalan music house, or get your game face on at an epic FC football match at Camp Nou stadium. Whatever you decide to do, you surely won't run out of activities in this exciting city.
We recommend purchasing the Barcelona transport card before you go; it'll give you unlimited access to public transportation and discounts to popular tourist spots.
Also, do note that when it's time for tapas, stick to the seafood, non-fried options, for a truly healthy meal.
And lastly, the locals are big on taking siestas between noon and 2 p.m., which means that many banks and stores will be closed and the city generally quiets down.
But when it's time to tour, you'll want to stick with the following itinerary.
Day 1
Day 2
Day 3
Day 4
Day 5