Happy Friday you guys!! 
Okay, so, I am FINALLY Finally finally going back to school! I've honestly have never been this excited, since I did take a semester off!! And no, it wasn't by choice... situations happen, but anyways lol. I am attending a community college in Louisiana starting this upcoming Tuesday and I decided to just take one class. Why? Well, because the semester lasts about 5 weeks and I think it'll be the best for me to just focus on one class and not rush like I did in the past(lesson learned). The class that I am taking is a speech communication course, which I believe is a requirement for all transfer students to compete; at least those are the requirements for schools in California.
So, the whole point of today's post is to share with you guys FIVE quick & breakfast ideas that you can take on-the-go with you to either school, work, a play date, or whatever the situation may be. I have plenty of other ideas, but i think five should be enough lol feel free to ask if you want more ideas or you can look on PINTEREST which is the answer to almost all of my questions!!! 
You guys should know from a previous post that I decided to make a lifestyle change and to lose a great amount of weight, so I'm just giving you guys breakfast ideas that have fruit in it.
Disclaimer: ( I am not a professional, I'm just simply sharing my own ideas. If  you have your own ideas, that's fine as well).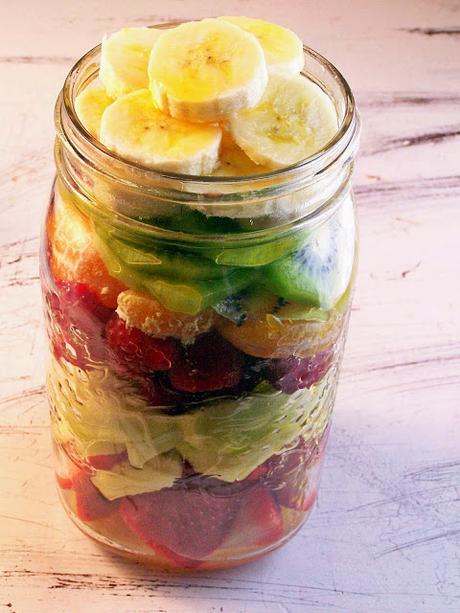 1.  Pineapple Smoothie
All you need are fresh or frozen pineapples and a milk of your choice(I use unsweetened almond milk). The next thing you do is just blend it until you get the texture you want, and you're all set!! UNLESS, you want to add chia seeds, oats or anything you'd like.
2. Fruit Salad
So, a fruit salad is pretty self explanatory. All you have to do is add a few of your favorite fruits to the jar. Sometimes, I like to use 1 tsp. of oats and/or chia seeds to give it a nice, nutty, crunch.
3. Chia Pudding w/ your choice of fruit
So, I like to use chia pudding as a replacement for yogurt because I'm not really into yogurt. I do add some vanilla extract to my pudding along with strawberries or blueberries. Here's a link for
chia pudding recipes
. 
4. Strawberry Banana & Blueberry Smoothie
3/4 cup milk
(I used unsweetened almond milk.)
1/4 cup quick oats
1 banana 
4-6 strawberries
10 blueberries
In the order listed, add all ingredients to your blender.
When my smoothie is ready, I pour it into a glass and top off with a tablespoon of chia seeds and oats. 
I personally use frozen fruits that I get from one of my favorite places to buy groceries(I'm doing a post on this soon by the way), but you can use whatever you desire. 
5
. Banana, Oats, & Peanut Butter
Just cut two bananas into smaller pieces, and then you just make layers with the oats and peanut butter like you would do a banana pudding or trifle. I just recently began using the "Jiffy Omega-3 Creamy" peanut butter, but I'm slowly trying to work my way up to something a little healthier and just as yummy. 
Let me know if you guys would like any more ideas or if you want to share some of your favorite recipes! xoxo