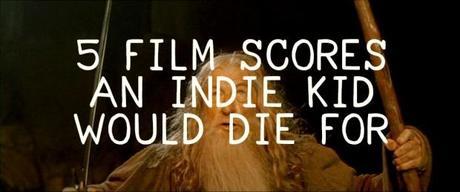 Music always adds emotion and tension to cinema and makes moviegoing a more exhilarating experience. However, you need the right composer to make your movie kick ass, because you wouldn't hear Creed scoring a Wes Anderson film (unless he's really trying to be ironic). Here's a list of five fantasy film scores that would be compatible and legendary:
1. Yo La Tengo and the Coen Brothers
Yo La Tengo and the Coen Brothers are both immensely diverse. YLT can do straight-up indie rock ("Cherry Chapstick"), alt-country ("One P.M. Again") and even bossa nova ("Center of Gravity"). Joel and Ethan Coen can do stoner-crime thrillers (The Big Lebowski), Americana versions of The Odyssey (O Brother, Where Art Thou?) and even folk music flicks (Inside Llewyn Davis). I know you wanna get down to some Yo La Fargo.
2. Swans and David Fincher
With his past two films (The Social Network and The Girl with the Dragon Tattoo), David Fincher has been really digging dark film scores and even enlisted Nine Inch Nails' Trent Reznor to soundtrack both movies. Swans thrived alongside NIN in the industrial rock movement of the 90s, and although the eclectic New York-based group has branched off from that scene, they've retained a dour, brooding sound that's darker than NIN's and would make Fincher jump for joy.
3. Animal Collective and Terry Gilliam
From his days of nutty, intellectual humor with Monty Python to the wacked-out, dystopian world of Brazil to his Hunter S. Thompson drug trip, Fear and Loathing in Las Vegas, Gilliam has always been an oddball. Animal Collective's eccentric, wide-ranging sound (noise rock on Here Comes the Indian, freak folk on Feels and electronica on Merriweather Post Pavilion) paired with Gilliam's otherworldly cinema skills would definitely be a hit.
4. The Flaming Lips and Charlie Kaufman
When was the last time you saw a film about going inside the head of a famous actor and taking control of him? When was the last time you saw a movie about writing about writing about writing a screenplay (that's not a typo)? Respectively, Being John Malkovich and Adaptation are very weird yet thrilling, thanks to screenwriter Charlie Kaufman. Combining the mystical space rock of The Flaming Lips with Charlie Kaufman's complex, bizarre writing, Flaming Kaufman is bound to be a classic.
5. Godspeed You! Black Emperor and David Lynch
It's impossible to pair the term "feel-good movie" with David Lynch. Come on — this was the guy responsible for Eraserhead! Odds are that if Lynch were to make another movie, it sure as hell won't be a Cheaper by the Dozen scenario. Post-rock legends Godspeed You! Black Emperor, like Lynch, have never made anything happy. Their debut album, F#A#Infinity, was all about people dying and corrupt governments destroying the world. Aside from being miserable, GY!BE's atmospheric sound is very reminiscent of the Eraserhead soundtrack. For Chrissake, can someone get these depressing geniuses a room?